Well, there are a lot of complications, hiccups and stumbling blocks waiting in front of the team management and the Indian team selectors in regards to the selection of the final fifteen-member squad of the 2021 T20 World Cup.
Barring players like captain Virat Kohli, Rohit Sharma, Bhuvneshwar Kumar and Jasprit Bumrah, almost every other player regardless of his establishment has been facing a lot of dubiety in regards to their final selection.
Perhaps with the ongoing Sri Lankan tour also then adding some further commendable set of players into the tentative final pool, both the list and the race to grab the UAE ticket seems to be getting more intensifying as ever.
However, as usual, there will also be some unlucky misses and slip outs who unfortunately will have to swallow a bitter pill despite their brimming performances and capabilities.
In this list, let's check out the 10 unlucky players who might miss their names from the squad for the 2021 World T20
1. Manish Pandey
Manish Pandey's reasonable strike rate in the T20s has become a big issue despite him being amongst the runs in recent times. The cricketer had endured an exact similar problem even in the 2021 IPL especially while helming SRH during their tricky run chases.
Perhaps while Pandey's average of 48.25 in the 2021 IPL also healthily indicates his good batting patch but when it comes to providing the acceleration to his solid starts, his below-par strike rate of 123.71 does bring in a lot of discouragement.
However, besides his shrinking strike rate, the 31-year old also seems to be battling for a very strong position in team India's T20 World Cup middle-order. Especially with the lower-middle order getting well intact with the likes of Rishabh Pant, Hardik Pandya and Ravindra Jadeja along with having two robust contenders for the number four position (Shreyas Iyer and Suryakumar Yadav), casting Pandey further definitely looks bleak.
Even in terms of the backup, the left-hand proposition of Ishan Kishan will definitely take over the precedence as the wicket-keeper batsman can dwell himself both at the top as well in the middle-order. Hence, even if Manish Pandey does bat out of his skin in the remainder of the IPL, unfortunately, he will surely miss the bus for the pinnacle event.
2. Prithvi Shaw
Ever since the start of the year 2021, Prithvi Shaw has been brimming with truckload runs along while maintaining a towering strike rate. Even in the first half of IPL 2021, Shaw was belting bowlers for fun as from his mere 8 games, the right-hander did consistently amass more than 300 runs at an average of 38.50 along with a soaring strike rate of 166.48.
Perhaps even before the IPL, Shaw did score a record number of 827 runs in the Vijay Hazare matches which also made his runs tally the highest ever in a List A tournament played outside England. However, with players like KL Rahul and Shikhar Dhawan already getting in a big wrangle to open aside Rohit Sharma, hardly there seems to be the slightest chance where team India would infuse the fourth opener in their overall T20 World Cup squad.
And in case if some abnormal situation comes to include an extra player, then chances are that selectors might prefer Ishan Kishan over Prithvi Shaw merely because of his ability to bat both as a top-order as well as a middle-order batter.
Hence, even if Prithvi Shaw does get selected for the final 20 or 25 men squad for the 2021 World T20, the 21-year old might be picked only as a reserve. Maybe, only if either Shikhar Dhawan or KL Rahul endures a dreadful IPL, then the cricketer might receive a realistic outside chance.
3. Sanju Samson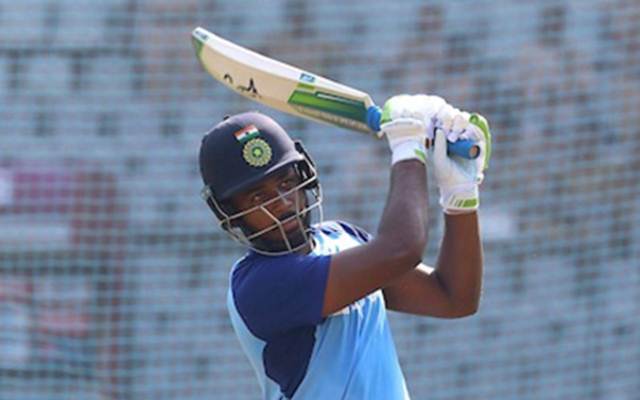 While Sanju Samson on his given day can trounce over any bowling attack, his current chances of making it into the T20 World Cup squad are largely less. Although the cricketer can bat anywhere in the top five along with his wicket-keeping talent, Samson might still miss the bus merely because of the jam-packed middle-order.
Especially with skipper Virat Kohli being intact at number three along with having either Suryakumar Yadav or Shreyas Iyer at number four, the above two positions are definitely now latched along with the trio of Rishabh Pant, Hardik Pandya and Ravindra Jadeja helming the lower-middle order.
Also, precisely if either Suryakumar Yadav or Shreyas Iyer plays at number four, then the team would then already be upholding an extra reserve player in the middle-order. Further, even on the wicket-keeping basis, Sanju's chances of getting into the side becomes bleak as already someone like a Rishabh Pant and KL Rahul will be the two ahead in terms of chiefly performing the glove work.
Perhaps even in a case, a slot opens then again the left-arm proposition of Ishan Kishan will take over the precedence. Hence, even if Sanju ends up have an exemplary IPL, the cricketer unfortunately might still miss out on the upcoming ICC event.
4. Axar Patel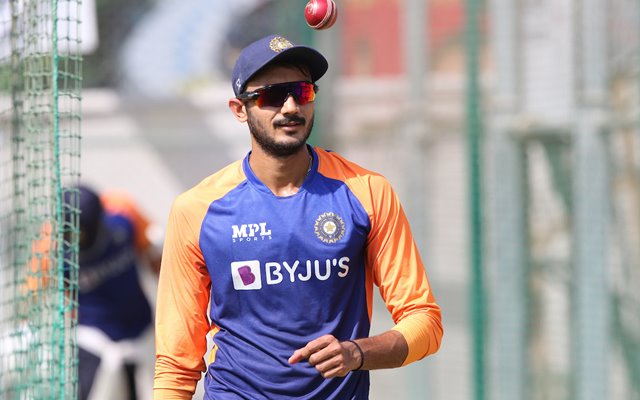 In the absence of injured Ravindra Jadeja, Axar Patel was recently called back into the side as his direct replacement. Especially in the Test matches against England, Axar had brimmed himself with a plethora of wickets that also then made his re-entry into India's limited-overs setup.
However, with the all-rounder also receiving a chance to play in the T20I series against England, the chances were that even he might come into the fore for a possible T20 World Cup selection. However, with someone like Ravindra Jadeja now being fully fit, Axar might not even find an outside chance for the selection.
Perhaps even if in case an opening occurs then someone like a Washington Sundar and even maybe Krunal Pandya might be ahead of Axar in the pecking order. Also, with the all-rounder barely now exhibiting his batting skills at the park, the 27-year old unfortunately now is miles away from his possible T20 selection.
5. Krunal Pandya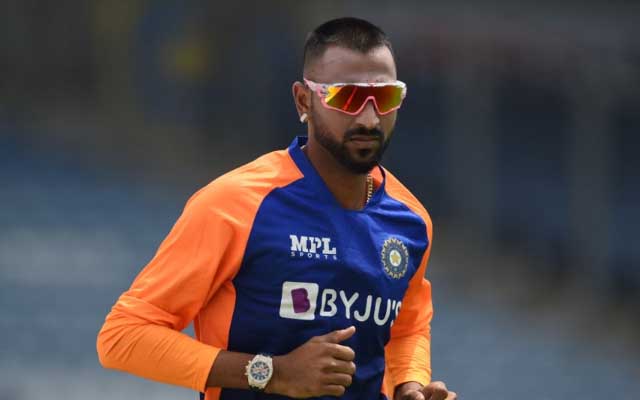 So far the senior Pandya has probably done exceptionally well with whatever role the cricketer has been given to perform. In the absence of Ravindra Jadeja, Krunal Pandya had immediately unlatched himself and had scored a total of 130 runs from his 5 ODI games at an average of 65 against England. In the IPL, Krunal also has a strike rate of around 141 that certainly makes him a handy lower middle-order all-rounder.
However, in terms of making it into the final World T20 squad, Krunal will subserviently lose out to Ravindra Jadeja and with the Indian team also looking to cast a minimum number of three spinners, Krunal might then even fall behind Washington Sundar in terms of the overall selection.
Even in the all-rounder's quota, both Hardik, Jadeja and Sundar will be given a first preference that eventually makes him slip away from the team. Hence, unless some injuries might pertain to lower middle-order batters, Krunal might unluckily miss the ticket for the upcoming World T20.
6. Krishnappa Gowtham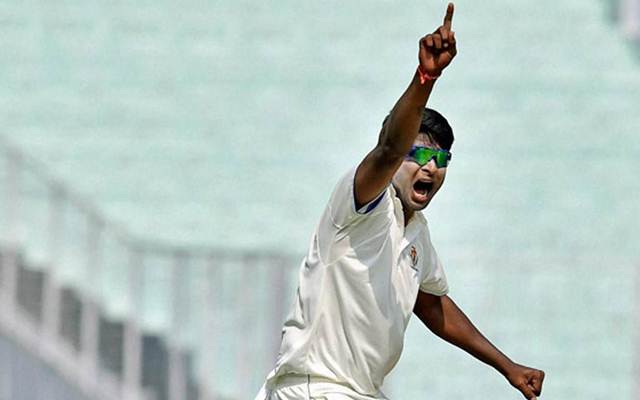 While K Gowtham is yet to unleash himself in international cricket, the all-rounder without evincing his overall gameplay will surely miss out on the mega event. Barely the cricketer has just played an ODI game and perhaps was seen as a bench-warmer even in the ongoing against Sri Lanka.
Also, with due respect to his overall talent, Gowtham by playing a total of 62 T20 games has merely picked 41 wickets with his primary skill. Overall, while his strike rate of almost 160 seems to be very healthy, his collective average of 15.63 eventually highlights his knack of getting out cheaply by repeatedly playing some faulty strokes.
All in all, to grab a ticket for the upcoming mega event, K Gowtham has to apparently soar high over the likes of Krunal Pandya, Axar Patel and Washington Sundar for a potential spot that too in a comprehensive 20-25 member squad.
7. Nitish Rana
Nitish Rana's overall proposition of being a floater left-handed batsman along with someone who can bowl some part-time spin does make him an exciting choice in regards to his potential selection. Even as a reserved batsman, Rana can come in as a replacement for any batting position even if it's about opening the batting as well.
However, with at present Rana only being perceived as a proper middle or lower-middle-order batsman, the cricketer might need to stand in the long overloaded queue for his potential selection.
Especially with the middle-order highly getting brimmed with front-line players like Suryakumar Yadav, Shreyas Iyer, Rishabh Pant and Hardik Pandya, barely there seems to be room for any further selection. Even if there comes an opening because of an injury or for other reasons, someone like Ishan Kishan or a Sanju Samson will be ahead in the pecking order to grab the opportunity.
Also, with regards to the cricketer possessing a reasonable strike rate, maybe Nitish Rana still needs to overall elevate his T20 game before coming to the international fore.
8. Navdeep Saini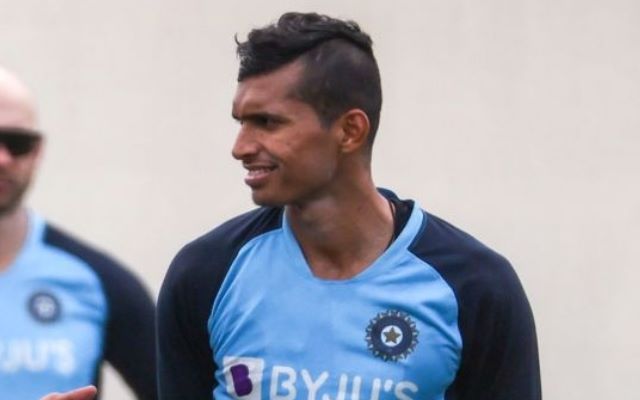 Before the Covid-19 pandemic, Navdeep Saini seemed to have been miles ahead of some prominent front-line bowlers like Shardul Thakur and Deepak Chahar. The pacer also used to be in the constant mix of an overall core group of front-line white-ball bowlers until the recent Australian tour where he, unfortunately, lost his place from the main side.
Since then neither Saini has consistently performed nor any of the above two pacers have malfunctioned while receiving their valuable limited number of opportunities. Both Shardul and Deepak Chahar have brimmed themselves with oodles of wickets, especially with Shardul also becoming team India's highest T20I wicket-taker in 2020.
Overall, while the likes of Bhuvi and Bumrah will definitely cast themselves as the team's two premier pacers, other speedsters like Mohammad Shami, Shardul Thakur, Deepak Chahar and T Natarajan will already contest for the possible two slots in the overall 15-member squad. Hence, someone like Navdeep Saini barely seems to be receiving a T20 World Cup ticket.
9. Kuldeep Yadav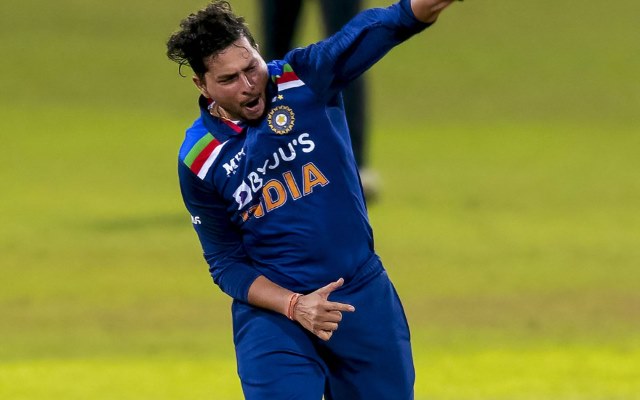 Much like there seems to be a hefty competition in the fast bowling group, similarly, there's also a compact contest amongst all spinners to grab the available few spots in the final fifteen. Now coming in regards to Kuldeep Yadav's T20 selection, barely the leg-spinner has played the shortest format especially with his last T20I game being well played before the pandemic in 2020.
Because of his recent malfunction, even his IPL side KKR had made him a mere bench warmer in IPL 2021 perhaps casting his peer Varun Chakravarthy as a premier spinner. Also, with Kuldeep now being crawling long behind in the race, the actual competition is between players like Yuzi Chahal, Rahul Chahar, Varun Chakravarthy along with Washington Sundar who will be competing as an all-rounder.
Hence, with regards to Kuldeep's elusive left-arm chinaman talent, the leg-spinner will unluckily miss the bus despite now being making a strong comeback at least in the ODIs.
10 . Chetan Sakariya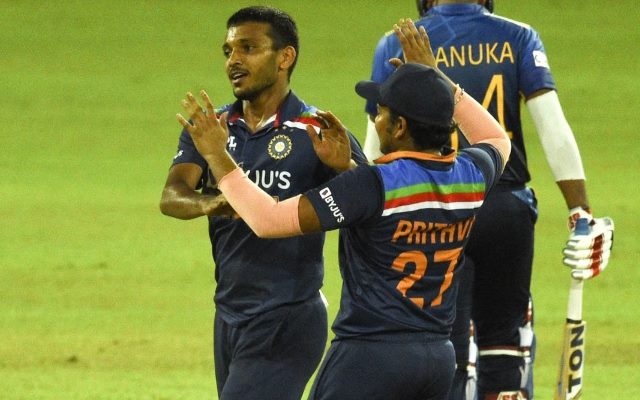 The year 2021 has come out to be immensely fruitful for Chetan Sakariya especially with the seamer making his debut appearance in the IPL 2021. The pacer also in his seven IPL games did perform well by bagging 7 seven wickets at a decent economy of 8.22.
However, with Sakariya being a left-arm seam proposition, the pacer might get eluded merely because of someone like a T Natarajan already being ahead of him in terms of getting picked as a left-arm seamer.
Perhaps, especially with the T20 format claiming to fame for T Natarajan, the speedster will definitely be eyeing the remainder of the IPL as an important event to dwell his place back into the Indian team.
Also, with other prominent seamers like Deepak Chahar, Mohammad Shami and Shardul Thakur already in a contest to eventually be part of the final fifteen, there seems to be a chance of other pacers including Sakariya.
Also, with the 23-year old just being a rookie in terms of playing international cricket, the team selectors would definitely prefer the pacer to vigorously exert more before entering into the main Indian dressing room.
Source: The source of this content is our cricket news platform Crictracker.
SportsInfo offers cricket, soccer, kabaddi, tennis, badminton, racing, basketball and other sports news, articles, videos, live coverage & live scores, player rankings & team rankings. Also, offers minute details of any match along with live commentary.