When Bhuvneshwar Kumar made his debut for India in 2012, his strength was swing. Nine years later, it is still his strength, but there is also so much more than that. Hence, when he wasn't named in the Indian squad for the ICC World Test Championship 2021 final and the subsequent five-match series against England, there were many eyebrows raised.
It is quite obvious. His style of bowling is tailor-made for the English conditions. In Australia or South Africa, the Indian team has been hesitant to use Bhuvneshwar due to his bowling one-dimensionality in Test cricket. But, that one dimension fits beautifully for the English conditions. And the pacer has proved that previously. `
In the 2014 Test series in England, Bhuvneshwar was jointly awarded the Player of the Series for his exceptional all-round performance. In five Tests, he picked up 19 wickets including a six-for at the Lord's Cricket Ground. To top that, he also scored 247 runs, including three fifties. In 2018, he was once again going to be India's trump card for the Test series in England, but that didn't happen and somehow that has resulted in what seems the end of his Test career. By the time you finish reading this, you will know why his absence in that series affected his career.
View this post on Instagram
1. The injury issues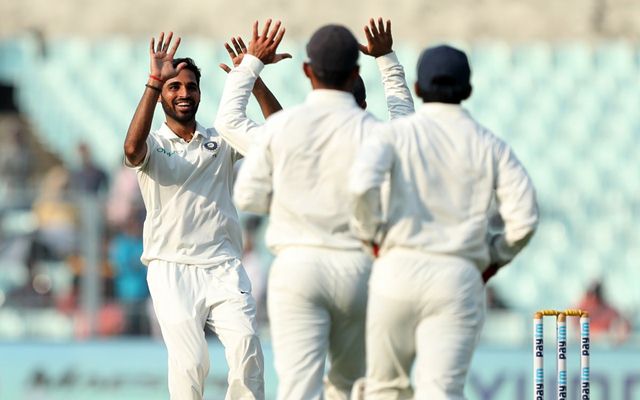 Bhuvneshwar had to leave the tour early after playing the white-ball leg, as he injured himself during the final ODI. That injury meant he was not going to feature in the red-ball leg of the tour. Little did anyone know, Bhuvneshwar was not going to play another red-ball official match after that. His last first-class game was way back in January 2018, when he was one of the five pacers which India fielded in the Johannesburg Test against South Africa.
Come to think about it, the reservation of the Indian selectors to take Bhuvneshwar Kumar in the squad for the England tour has a lot to do with this particular fact that he hasn't played enough of the format. But, why didn't he play a single Test or a single first-class match until now? As one of the premier fast-bowlers in India, it is quite baffling that Kumar has not played a red-ball match in more than three years.
One of the major reasons why Bhuvneshwar hasn't been able to play more red-ball matches is because of his constant struggle with injuries. The injury in England in 2018 kept him out of that tour, but also some of the key red-ball fixtures in the following year. In the build-up to the 2019 World Cup, selectors knew Bhuvneshwar Kumar will have to be paired up with Jasprit Bumrah, hence his workload was managed with considerable relaxation of not playing red-ball cricket.
2. Constantly ignored by selectors for Tests
After the 2019 World Cup, India went on a tour of the West Indies. Bhuvneshwar found his way into the ODI and T20I squad, but there was no mention of him in the Test squad. As we look behind at the reporting around that time, there was absolutely no mention of him in the Test squad, despite being a part of the squad which played in Australia earlier that year. But here we were, at the start of the ICC World Test Championship, and one of the finest bowlers in the country wasn't considered.
In the following home series against South Africa and the subsequent Test series in New Zealand, Bhuvneshwar Kumar was ignored once again. By now, it seems that it was quite clear to the selectors and Bhuvneshwar himself that he isn't going to be a red-ball bowler anymore. But, that doesn't explain why Bhuvneshwar would avoid first-class matches for his state. Well, he didn't have enough opportunities. When the Ranji Trophy matches were going on, Bhuvneshwar was either playing for India or recovering from an injury.
3. Lack of first-class cricket for Uttar Pradesh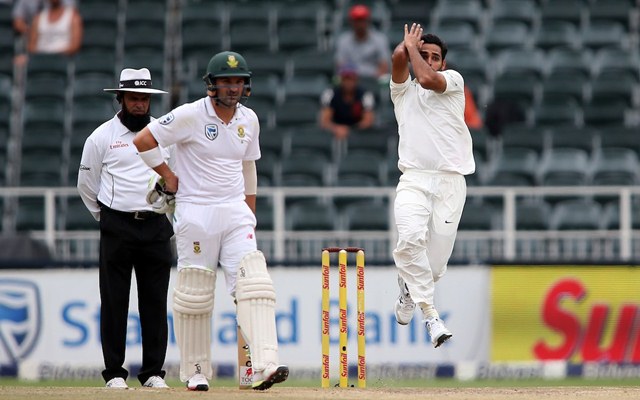 In the 2018-19 season, he was in Australia with the squad but didn't get chances. In 2019-20, he was playing for India in white-ball cricket and was injured for the second half, failing to make it to the Ranji XI for state two years in a row. Then came the pandemic. With no Ranji Trophy matches in 2020-21, Bhuvneshwar had nothing to show the Indian selectors that they can back him to deliver more than 20 overs in a day and get through a Test series.
Having said that, his time away from the Test squad saw the emergence of Mohammed Siraj and Shardul Thakur. And it would have been almost criminal to not name the players who actually helped India to qualify to the final. But before that, the reason why it was not a problem for the Indian team to not have Bhuvneshwar in Test cricket was because of the presence of Mohammed Shami, Jasprit Bumrah, and Ishant Sharma. The trio emerged as one of the best bowling combinations in the world. Umesh Yadav fit in whenever one was down. But, then came a time when all of them were down with injuries.
4. Missing Australian tour of 2020-21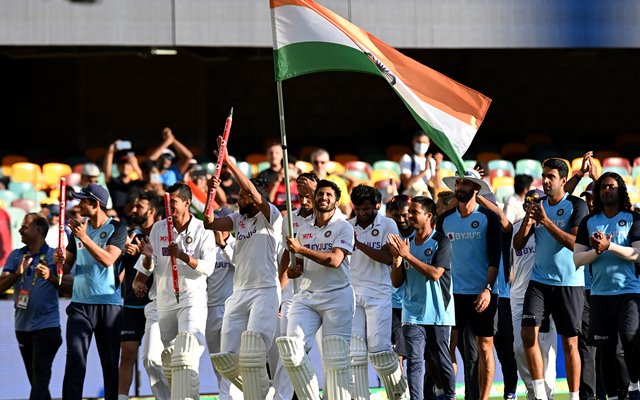 In the Gabba Test when India found themselves without the four pacers, Bhuvneshwar Kumar could have stepped up. But, he was not in Australia. He couldn't take the plane to Australia in the first place because of an injury that he sustained in the IPL 2020. As a matter of fact, he was fit midway through the Test series, but he couldn't have been called up to Australia as quarantine would have taken his time. It just happens to be a case of bad luck and missed opportunities, which has seen Bhuvneshwar's Test career take a dip like this.
There is no denying the fact that he could've been an ideal no. 8, pairing either with Ravichandran Ashwin and Ravindra Jadeja in the Indian XI in England, but that won't be the case. The decision of not sending Bhuvneshwar to this tour simply boils down to the lack of red-ball games under his belt and the selectors' constant ignorance, when it comes to bringing him back in this team. So, maybe, he never actually featured in the discussion of the Indian selectors when they sat down to name the list of 20 members.
On top of that, there is just no guarantee that Bhuvneshwar Kumar has completely recovered from his injuries. During the IPL 2021, he had to miss out on some of the matches due to a niggle which he was carrying. Sending him to a long Test tour would put him at risk of getting badly injured in the year of the ICC T20 World Cup. Despite six pacers available in the squad, India is unlikely to play more than three in any of the matches, which reduces his need on this side.
5. The emergence of the trio of Ishant-Shami-Bumrah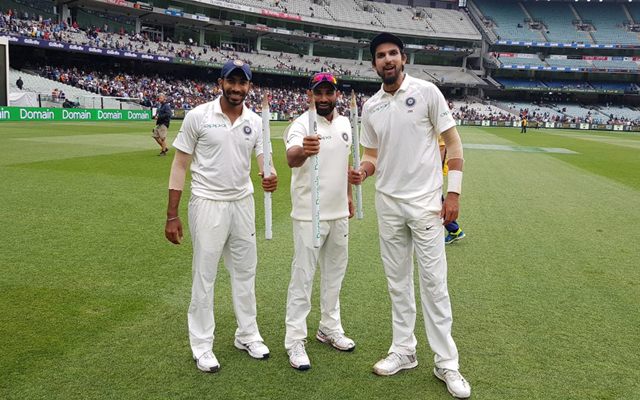 He remains an invaluable asset to the white-ball set-up, and the selectors know that very well. For the time being, we might have seen curtains fall on Bhuvneshwar's Test career. But, it feels that decision was seen coming on its way once the trio of Shami, Ishant, and Bumrah proved their abilities in England in 2018.
An incident dated to 2018 reflects that Bhuvneshwar was rated with the red-ball in only suitable conditions. After picking up six wickets in the first Test in Cape Town and scoring 38 runs in that low-scoring affair, he was dropped from the XI in the Centurion Test. Captain Virat Kohli suggested that the team management felt that Ishant Sharma, a senior pro, was a must in the XI for his experience and the conditions in Centurion were less helpful for Bhuvneshwar. He did come back to play that final Test in Johannesburg, where he picked up four scalps, which was his last Test.
But, it was quite clear, Bhuvneshwar was not going to be India's first choice for fast pacey pitches in Australia, South Africa and New Zealand. Something which they stood on during the Australia tour in 2018-19. In the second Test in Perth, when Kohli wanted to drop a spinner and play four pacers, he went back to Umesh Yadav, and quite rightly so. Hence, the only overseas conditions where Bhuvneshwar was going to get the backing of his team was England.
| | | | | | | |
| --- | --- | --- | --- | --- | --- | --- |
| Player | Matches | Innings | Wickets | Average | Strike Rate | 5-wicket hauls |
| Mohammed Shami | 23 | 43 | 85 | 24.02 | 45.4 | 3 |
| Jasprit Bumrah | 19 | 37 | 83 | 22.10 | 49.0 | 5 |
| Ishant Sharma | 22 | 41 | 77 | 19.72 | 43.0 | 4 |
| Umesh Yadav | 12 | 24 | 49 | 19.71 | 35.1 | 2 |
| Mohammed Siraj | 5 | 10 | 16 | 28.25 | 60.1 | 1 |
| Hardik Pandya | 8 | 14 | 13 | 33.30 | 57.3 | 1 |
| Bhuvneshwar Kumar | 2 | 4 | 10 | 20.30 | 40.2 | 0 |
But, India now has confidence in Shami, Bumrah, Ishant, and Umesh, all four who played for India in England in 2018 and did fairly well. The quartet has since then delivered in all conditions. Hence, when Bhuvneshwar's absence wasn't felt in 2018 in England, his Test career looked diminished. And since has continued to be so.
Source: The source of this content is our cricket news platform Crictracker.
SportsInfo offers cricket, soccer, kabaddi, tennis, badminton, racing, basketball and other sports news, articles, videos, live coverage & live scores, player rankings & team rankings. Also, offers minute details of any match along with live commentary.