Cricket is a game full of surprises. One never knows what is going to happen out there on the field. Strong contenders lose, underdogs win; it is all a part and parcel of the game. The best instances are of England's defeat at the 2011 and 2015 World Cup from Ireland and Bangladesh respectively.
Young energy plays an important role in the game. Experience has its own role to play but youngsters carry the team forward. Young energy is a feat most teams are struggling with these days. Over-reliance on veterans in the past have left them with inexperienced youngsters and a lot of struggle at the global level.
India as a cricketing nation has always backed up its youngsters. The next generation of players is ready before the existing generation is exhausted. The Board for Control of Cricket in India (BCCI) through its various programs has made sure that the young energy gets enough international exposure and the right amount of guidance from the veterans before the responsibilities actually fall its shoulders. Over the years, Indian youngsters have given many brilliant performances.
Here, we bring you five such instances where Indian youngsters took matters in their own hands and surprised the opposition: –
1. Ishant Sharma against Australia, 2008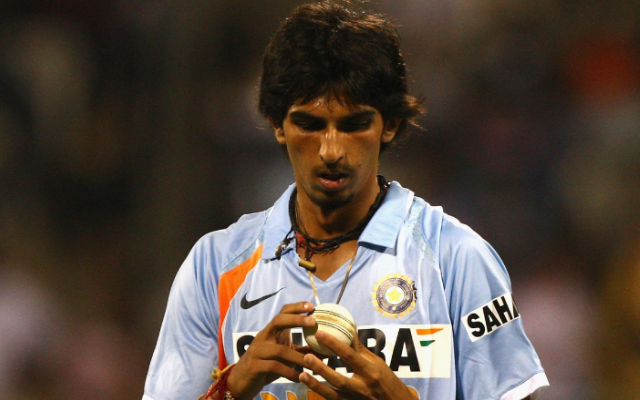 The Australian team came to India to play a total of 4 test matches. The series was kind of an important one as India lost 2-1 to Australia last time they went down under. Indians were filled with a sense of revenge and wanted to give it back to Australia. A 20-year-old Ishant Sharma was selected to be a part of the Indian squad.
The first test match took place at Bengaluru. Having won the toss, Australia decided to bat first in what looked like a beautiful batting track. Australia put up a massive total of 430 in the first innings; centuries coming from the bat of Ricky Ponting and Michael Hussey. Ishant Sharma managed to pick up 4 wickets in that innings.
His scalps included Simon Katich, Shane Watson, Brad Haddin, and Cameron White. India countered and scored 360 runs. The match eventually ended in a draw credit to gritty knocks from Tendulkar, Dravid, and Ganguly. Ishant Sharma ended up picking 7 wickets in the game. Zaheer Khan was awarded the man of the match for his 6 wickets in the game and a fifty in the first innings.
India won the 4-match series 2-0. Ishant Sharma, with 15 wickets throughout the series was the highest wicket-taker. He was awarded the Man of the Series Trophy for his brilliant bowling. Sharma's performance in the series took everyone back into January 2008 when he bowled an iconic spell to Ricky Ponting at the WACA and troubled him throughout the series.
2. Rohit Sharma against South Africa, World T20, 2007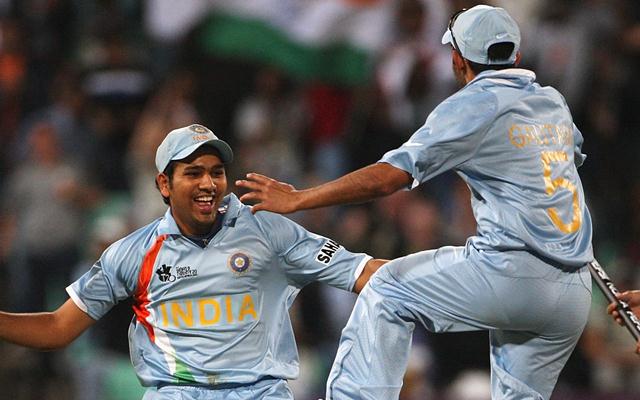 The 2007 World Cup was the first tournament that MS Dhoni captained India. Many teams went with veterans for the tournament but India had decided to go with a rather young team. This was a major reason why India was not considered a contender at the start of the cup.
India's start of the tournament was not very ideal. Their initial game against Scotland was washed off and they lost a game against New Zealand. Somehow, they made it into the Super 8. Match 24 of the tournament was to be played between South Africa and India. Winning the toss, India decided to bat first. India had a nightmare of a start and till the time powerplay ended, India's score was 34 for 3.
That's when Rohit Sharma walked into bat. Sharma had made his debut in the previous game only against England, wherein he did not bat as Yuvraj Singh smashed the ball to all parts of the ground, but Yuvraj was not playing in this game. Sharma walked to the crease to join Robin Uthappa. He hit his first boundary in the 10th over and brought up the team's fifty.
In the 11th over, Robin Uthappa also got out, India's score being 61 for 4. Then the responsibility of rebuilding the innings fell on the shoulders of Rohit Sharma and Mahendra Singh Dhoni. In his first 20 balls, Rohit had scored just 18 runs, 12 of which had come from boundaries. It was very unlikely of him but someone had to hold one end for India.
Once India hit that 90-run mark, Sharma started playing his strokes. MS Dhoni complimented him well from the other end. Both the batsmen took India's total to 153, which was quite considering the fact it was the first edition of the T20 World Cup. Rohit Sharma ended on 50 not-out. The Indian bowlers restricted a good-looking South Africa for 116 and Rohit Sharma was awarded the man of the match for his prolific performance.
3. MS Dhoni against Pakistan, 2005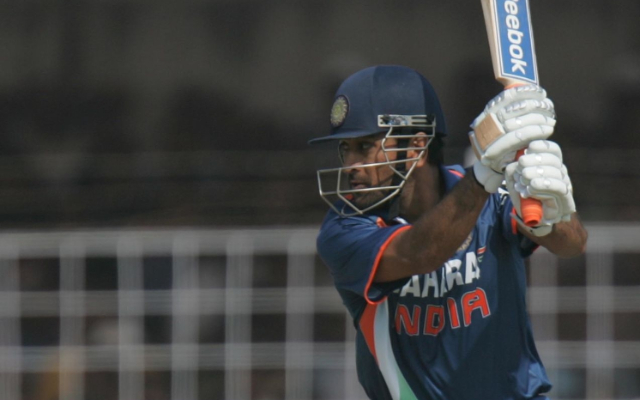 In 2005, India hosted Pakistan for the Pepsi Cup ODI Series. After a poor run against Bangladesh, Mahendra Singh Dhoni was given yet another chance with the Indian team. The first game of the series was a big disappointment for MS Dhoni as he scored 3 runs from 7 balls and rumors started spreading that time has come for Dhoni to bid adieu to the India team.
The Second ODI of the series took place at Dr. Y.S.R. ACA VDA Cricket Stadium, Vishakhapatnam. Winning the toss, India decided to bat first. Virender Sehwag, playing to his character, started hitting from the very first ball. In the 4th over, India lost Sachin Tendulkar at 26 runs.
Having failed miserably in his first 5 outings, MS Dhoni walked to the crease at number 3. Dhoni started off with a bit of a nervous intent but Sehwag continued to play his shots. But soon, he started complementing Sehwag with his shots. Sehwag and Dhoni brought up the team's fifty in just 6 overs.
Frustrated with the constant hitting, the Pakistan captain Inzamam-ul-Haq brought Shahid Afridi in the 9th over. Dhoni smacked Afridi to all parts of the ground. The duo was on the brink of a 100-run partnership before Sehwag was removed Naved-ul-Hasan for 74. But Dhoni continued to hit boundaries. He put up a partnership of 149 runs with Rahul Dravid before Mohammad Hafeez removed him.
Dhoni scored 148 runs from 123 deliveries at a strike rate of 120.33. His favorite target in the game was Shahid Afridi. Afridi gave away 82 runs in his 9 overs. Later on, the tail chipped in with some handy quick runs and India managed to score 356 runs in their allocated 50 overs. Naved-ul-Hasan was the standout bowler for Pakistan with 3 wickets from 10 overs.
In the end, India bowled out Pakistan for 298 runs and managed to win the game by a margin of 58 runs, taking a lead of 2-0 in the six-match series. Ashish Nehra took 4 wickets for India. Abdul Razzaq was the highest scorer for Pakistan with 88 runs. For his brilliant batting, Dhoni was awarded the man of the match.
4. Washington Sundar against Australia, 2021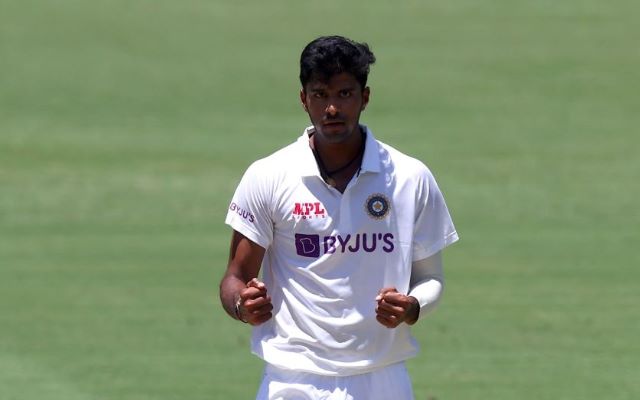 India's tour of Australia 2020-21 will probably one of India's most memorable and iconic tour down under. The test series not only saw the rise of many young Indian heroes but also broke the notion that India couldn't win overseas without Virat Kohli. What made the victory even more special that a young, inexperienced, and injury-battling Indian team defeated a well-settled and in-form Australian team at their home.
India went on to the 4th Test match at Gabba with the series tied at 1-1. The test match was the debut game for the 21-year-old Washington Sundar. In the absence of Ashwin and Jadeja, it was expected that Kuldeep Yadav would be the team's number spin choice. Instead, the team management went with the off-spinner Sundar; maybe because apart from bowling, the youngster is a pretty handy batsman as well. The youngster stood upon everyone's expectations and played a match-winner role for the team.
In the first innings of the test match, Sundar bowled a total of 31 overs (the most by an Indian in that innings) and managed to pick up 3 wickets. Sundar's maiden wicket came in the 34th over of the innings when Steve Smith chipped one to Rohit Sharma. India managed to restrict Australia for 369 runs despite some of their batsmen getting very good starts. Coming to bat, Indian batsmen, made the same mistake that the Aussies did; they gave their wickets away despite getting starts.
India's score was 5 for 161 when Sundar came out to bat. Soon after Sundar's arrival, Rishabh Pant too threw his wicket away, reducing India's score to 186 for 6. It seemed India would be bowled out pretty cheap and Australia might amass a good lead. But Sundar and Shardul Thakur had some plans of their own. Sundar and Shardul put up 123 runs for the 7th wicket before Shardul was bowled by Cummins for 67 runs.
With 62 runs, debutant Washington Sundar was India's second-highest scorer in the innings. Sundar's innings included 7 fours and one gigantic no-look six to Nathan Lyon. Due to his heroic innings, India managed to conclude their innings at 336 runs, giving Australia a lead of mere 36 runs.
Even in the second innings, Sundar dismissed Australian opener, David Warner. Chasing 328 runs in the second innings, a draw looked much closer for India when Mayank Agarwal got out 265. India needed some quickfire runs in the last 10 overs and Sundar rose to the occasion yet again. In just 29 balls, Sundar scored 22 runs and played an important role alongside Pant to secure a victory for India. It was only after the game that he told everyone that it was Ashwin who mentored him throughout the game and helped him with his performance.
5. Mohammad Kaif, Natwest Series Final, 2002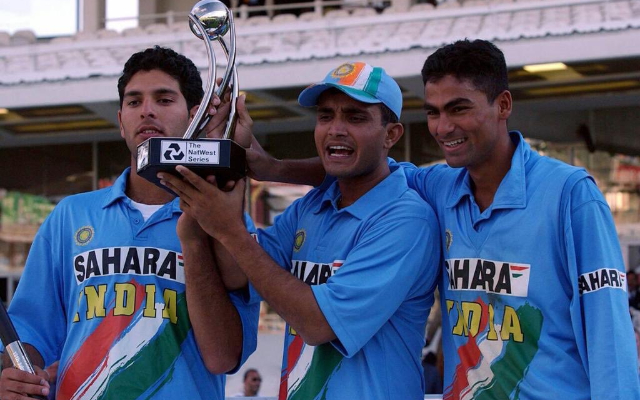 The Natwest Series of 2002 holds a special place in the hearts of every Indian cricket fan. The tournament was played between India, England, and Sri Lanka. India, after a pretty successful campaign, had made it to the finals and were looking, strong contenders. It was a time when the Indian team used to dominate the campaigns and make it to the finals of almost every tournament but would end up losing somehow. Thus, there was a lot of pressure on the Indian team to win this one.
The final was held at the Mecca of World Cricket, Lords. Winning the toss, England decided to bat first on a surface that is a paradise to any batsman. Centuries from opener Marcus Trescothick and captain Nasser Hussain put England in a driving situation as the hosts managed to score 325 for the loss of 5 wickets in their 50 overs, which was a mammoth total considering the match was played in the pre-T20 dominant era.
What was a much bigger disappointment that the Indian bowling attack, considered as one of the most disciplined bowling line-ups, gave away 31 runs as extras including 6 no-balls and 7 wides. Zaheer Khan was the standout bowler for India as he picked up 3 wickets for 62 runs from his 10 overs.
Coming to chase that big a total, India had a dream start. Sehwag and captain Ganguly put up 106 from 14.3 overs for the first wicket before Ganguly was clean bowled by paceman Alex Tudor. Sehwag followed next. This started a flurry of wickets and soon, India were reduced to 146 for 5, with grey clouds of defeat in yet another final over their head.
Then Mohammad Kaif walked into the crease. Before the game, Kaif had a pretty average series, scoring 80 runs in 3 innings. Coming into bat with a lot of pressure on his shoulders, the 21-year-old slowly built his innings as Yuvraj Singh on the other end plundered the bowlers. The duo helped India cross 200 in 34 overs.
Once India crossed the 200-run mark, Kaif too started playing his strokes and in a mere span of 6 overs, India brought up their next 50. India needed 68 runs from the last 10 overs now and were in a very comfortable position. Soon enough, Kaif too brought up his fifty. India were searing to a comfortable victory but Paul Collingwood struck and dismissed Yuvraj Singh at the brink of the 42nd over. India's score was 267 at that moment and required another 58 runs. But Kaif was firm on the other end.
He kept his cool, continued to play his strokes, and built up a partnership of 47 with Harbhajan Singh. Before Bhajji was bowled by Flintoff, India required another 12 runs from 16 deliveries. Kumble followed next and went for a duck. India were on the verge of another collapse. Kaif hit a 4 on the last ball of the 49th over, taking India's tally to 324 runs. This meant India required just 2 runs to win from the final over.
Flintoff was to bowl the 50th over. He bowled the first two balls dots to Zaheer Khan. When Zaheer finally hit the winning runs on the 3rd ball of the over, the crowd went berserk. Sourav Ganguly put off and swirled his shirt in joy, which became one of the most iconic moments in Indian Cricket history. Kaif ended up scoring 87 runs from 75 deliveries and was awarded the Man of the Match for his brilliant performance. He and Yuvraj Singh brought India back from what once seemed a sure-shot defeat.
Source: The source of this content is our cricket news platform Crictracker.
SportsInfo offers cricket, soccer, kabaddi, tennis, badminton, racing, basketball and other sports news, articles, videos, live coverage & live scores, player rankings & team rankings. Also, offers minute details of any match along with live commentary.