Apart from the ten legal ways in which a batsman can be fetched out, sledging on the other hand can mainly be called a stimulant for indirectly sending a batter back into the dressing room. The term sledging is as old as the game itself and can be discerned to times when the legendary WG Grace was known for his desire of doing a running commentary on its opponents.
Although in the game's ever-lasting folklore, the Australians have been associated as the grandmaster of this skill, in reality, it has now become something that almost every team has embellished. All in all, now in cricket where the gentlemen's spirit has highly become diminutive, sledging in its subsistence has become a two-way street.
Also, it's highly mistaken that it's mainly the bowlers who are often seeing manifesting this skill. But as a matter of the fact now even the batsmen have started to manipulate the bowling by using both bat and mouth. Pakistan cricketers are no different in this aspect and let's take a look at-
Instances when Pakistan cricketers got fitting replies for their sledging
1. Venkatesh Prasad vs Aamir Sohail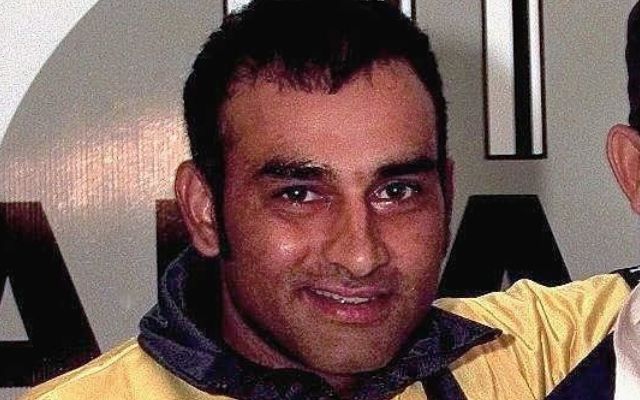 There's no doubt that this sputter between Aamir Sohail from Pakistan and Venkatesh Prasad is something which is very well canvassed in the historic rivalry of these two teams. The match in which this incident had occurred in itself was a grand stage as both the teams were battling each other to grab a semi-final spot in the 1996 World Cup. While batting first, the Indian team had posted a daunting total of 287, but with the way in which Aamir Sohail and Saeed Anwar had started the proceedings for Pakistan, the total looked completely menial.
The incident had taken shape when Aamir Sohail, who was also the stand-in skipper in that game immaturely pointed his bat at Venkatesh Prasad which almost indicated Prasad to go and fetch that ball being hit for a boundary on the off-side. The signalling of the bat also meant that Sohail yet again vigorously wanted to hit him for another boundary in that direction. Whereas, Prasad in his soundless walk bowled a next delivery which completely uprooted Sohail's stumps as he committed himself to play a similar shot.
The incident, however, can also be called a key turning point of that match as in the end, Pakistan did lose the game by a margin of 39 runs. After the stand-in skipper's wicket, the Pakistani team routinely lost their wickets at regular intervals and as a result, couldn't beat India during their second encounter at a World Cup stage.
2. Sachin Tendulkar vs Abdul Qadir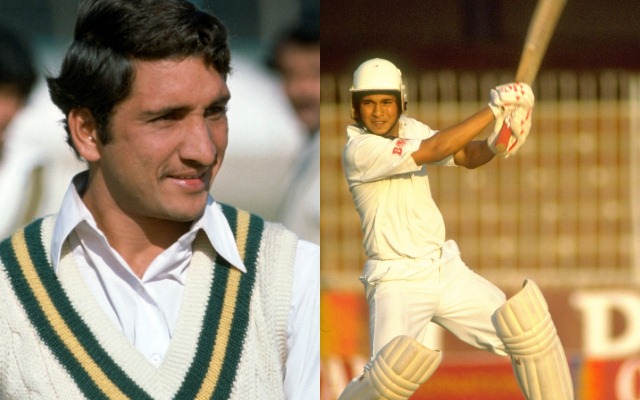 Another incident which again includes the two arch-rivals of the game, this instance occurred when the 16-year old young Sachin Tendulkar with his baby face was on his first international tour. While facing the mighty Pakistani attack of that time, Sachin was seen getting hit by Waqar Younis on his nose in that exhibition match.
While batting second, India were chasing a challenging target and that's when Sachin had decided to take on Mushtaq Ahmed. Against Mushtaq Ahmed's bowling, the little master smashed him for few sixes but that's when the legendary Abdul Qadir told Sachin "Bacchon ko kyun maar rahe ho? Hamme maar ke dikhao." (In English: Rather than smashing kids? Hit me if you can).
What came after was some sheer attacking stroke play from Sachin Tendulkar, as he eventually smashed Abdul Qadir's bowling for four sixes in an over. Sachin overall was also seen scoring a handy half-century but India as a team did tormentingly remained deficit from their given target.
3. Merv Hughes vs Javed Miandad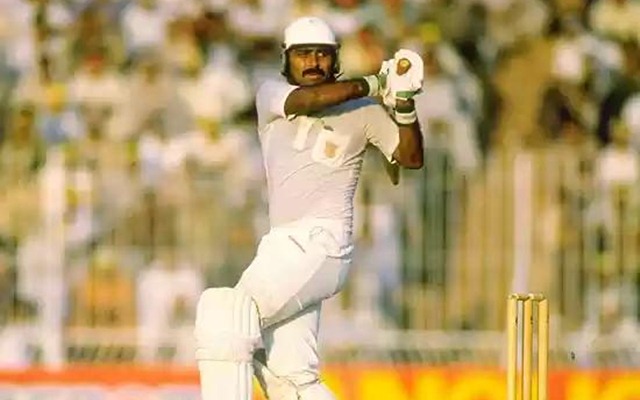 Any sledging list in cricket cannot be completed if it doesn't involve the legendary Aussie pacer, Merv Hughes. This Aussie pacer is surely one of the best when it comes to the sledging business in cricket and this time in this instance, he was seen against the shrewd personality of Javed Miandad.
It is believed that because Javed himself was a very fierce competitor, the Aussies in that match had decided not to have a verbal rant against him. But while facing Merv Hughes, Javed called the Aussie pacer as a "Merv you are a big, fat bus conductor".
After hearing Javed's comments, Merv then was seen fumingly bowl at Javed. Few deliveries later, finally Merv took Javed's wicket and then was seen calling for "Tickets, please!" during Miandad's walk back to the pavilion.
4. Harbhajan Singh vs Shoaib Akthar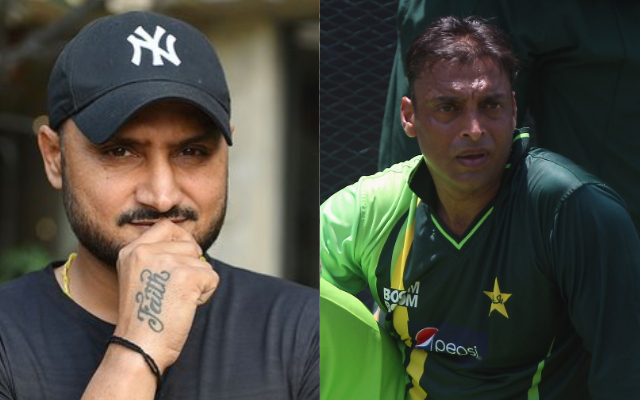 Another sputter that involves two aggressive cricketers, this incident had taken shape during an Asia Cup game back in 2010. While batting first, Pakistan had posted a competitive total of 268 runs in the first innings. India on the other hand were amassing runs as per the situation but were regularly seen losing their wickets. All in all, the match was then expected to go down the wire and that's when this instance exactly occurred between the Rawalpindi Express and India's Turbanator.
By bowling the penultimate over, Shoaib Akthar had got hit by Suresh Raina for a six off the first ball. Now just like Raina, even Harbhajan wanted to fetch a boundary and tried playing a pull shot which he eventually failed to connect. After bowling the delivery, Shoaib was then seen immediately going towards Harbhajan wherein the two then exchanged some words between them.
With Mohammad Aamir, then bowling the final over, the speedster immediately scalped Suresh Raina's wicket. But with three runs required off the final two deliveries, Harbhajan then gives a big, fat whack to the ball which went for a six towards the mid-wicket area. By sealing the victory with a six, Harbhajan not only gave a shutting reply to Shoaib Akthar but also kicked off the Pakistan team from further qualifying into the Asia Cup knockout matches.
5. Brian Lara and Danish Kaneria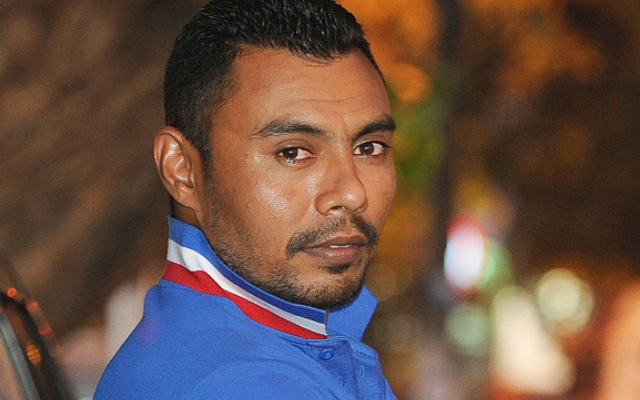 Well, it is often believed that one of the intrinsic mantras of Brian Lara's legendary batting was that the cricketer liked chatting with his opponents while batting in the middle. In this incident, although Danish Kaneria had started the banter in a sarcastic manner, Brian Lara made sure that the opportunity was meant to be optimized.
The incident began when Lara had hit Danish Kaneria for a boundary of the first ball of his over which then eventually made Danish Kaneria bowl a googly as his next delivery. With Lara picking it up and defending it, Kaneria sarcastically said, "Well played, Brian!". In response, Lara immediately then said "Okay, sir '. But what came off from the next three balls was something that even Kaneria couldn't have imagined.
The next three deliveries bowled by Danish Kaneria were completely dispatched for three sailing sixes along with a boundary of the last ball. Brian Lara aggregately scored a total of 26 runs from Kaneria's over and apparently notched a double hundred (216) in the drawn Multan Test.
6. Virender Sehwag vs Shoaib Akthar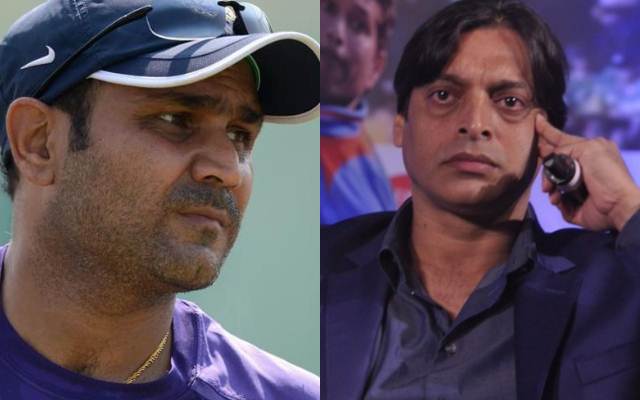 This incident had taken its course when Virender Sehwag along with Sachin Tendulkar had decided to take the entire Pakistani bowling attack for cleaners and fetch his first of the two triple hundreds. Apart from scoring his triple hundred, Sehwag along with the little master stitched a mammoth 336 run partnership which allowed India to not only bat once in the Multan Test but also a victory in the first match of the series.
The above incident eventually got started when Sehwag was vigorously notching runs with his blade and then suddenly Shoaib Akthar started bowling a barrage of bouncers to him. While bowling them Shoaib repeatedly sledged Sehwag to play the hook shot.
With Shoaib now repeatedly provoking Sehwag to play the hook shot, Viru outwardly then told the Pakistani fielders, "Yeh Ball daal raha hai ya bhik maang raha hai?" (In English: Is he bowling or is he begging?). Eventually, at the end of the Indian innings, Akthar had a reasonable outing as in 32 overs, the speedster leaked 119 runs and was unable to scalp a single wicket.
Source: The source of this content is our cricket news platform Crictracker.
SportsInfo offers cricket, soccer, kabaddi, tennis, badminton, racing, basketball and other sports news, articles, videos, live coverage & live scores, player rankings & team rankings. Also, offers minute details of any match along with live commentary.