Imagine your team is defending 135 in a T20 match and your strike bowler produces a spell of 4-0-9-3. Something similar happened in a match between India and Pakistan in 2012 in Bengaluru. However, at that time, this spell was bowled by a debutant. His spell didn't give India a victory in that match, but it assured them of a brooding new swing bowler.
Nine years since then, Bhuvneshwar Kumar has become one of the top bowlers in the country. The pace-bowling brigade which the Indian team is so proud of also consists of Bhuvneshwar. In the last nine years, the right-arm swing bowler has seen almost everything and like all the other fast-bowlers in the Indian set-up, has improved massively.
The time when Bhuvneshwar fell out of favour
He started off in late 2012 as a 130 kmph or mid-130 kmph bowler. At the 2015 ICC Cricket World Cup, he had arrived down under as MS Dhoni's top choice for being among the three pacers to feature. However, Mohit Sharma and Umesh Yadav edged past him for two specific reasons. Sharma was a good death bowler and MS Dhoni having worked with him in the IPL, knew how effective he could be in those last few overs. Yadav, on the other hand, had extra pace. Knocking upwards of 140 kmph, Umesh was preferred on the fast Australian pitches. Bhuvneshwar came back from that World Cup with an experience of only one match, that too against UAE.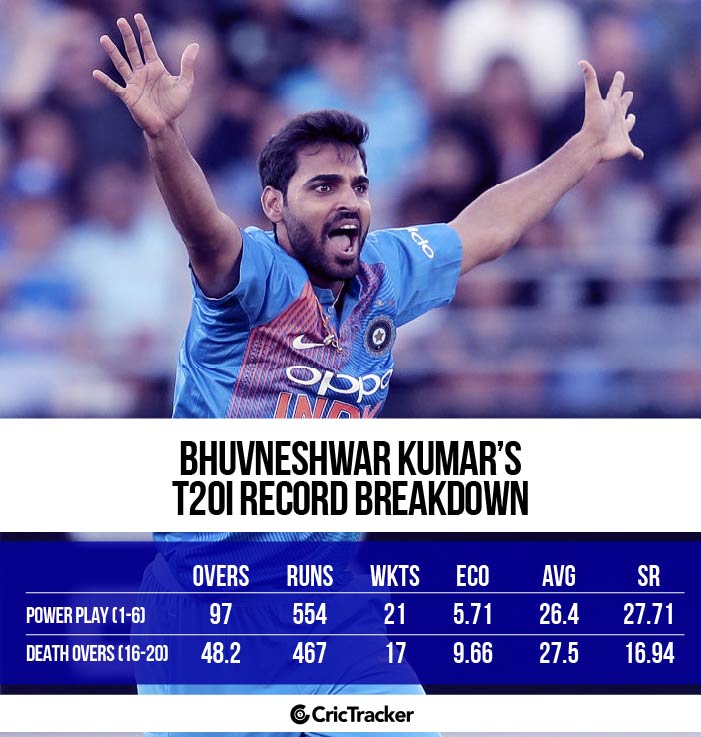 After returning to India, the young pacer worked extensively on his game. Having understood the requirements for cutting it in different conditions, the goals were set for Bhuvneshwar. His pace increased in the upcoming months. But, it is one thing to swing the ball at 130 kmph and totally another thing to do that at 145 kmph. Bhuvi had lost his swing considerably with the increase in pace. It took him another re-jag in his bowling, to get back the swing. But now, he had added two most important arsenal of fast-bowling, bowling with the new ball and bowling in the death overs.
Getting back the swing and returning to form
Now, all this has to make some sense at one point. Having got back his rhythm, swing and gained pace, Bhuvneshwar was set to foresee some good returns. And it started happening post-2017, under Virat Kohli's captaincy. Under Kohli, India's ODI and T20I team had a much-sorted plan when it came to bowling. Jasprit Bumrah and Bhuvneshwar Kumar were the new-ball bowlers.
They would pick up early wickets to put pressure on the opposition. After that, the two leg-spinners, Kuldeep Yadav and Yuzvendra Chahal would take over. Between overs 10 and 40, Hardik Pandya will bowl in short spells to give his captain 10 overs. As the innings will go to the death overs, Kohli will unleash his best two death bowlers, who were incidentally, the best which the country had.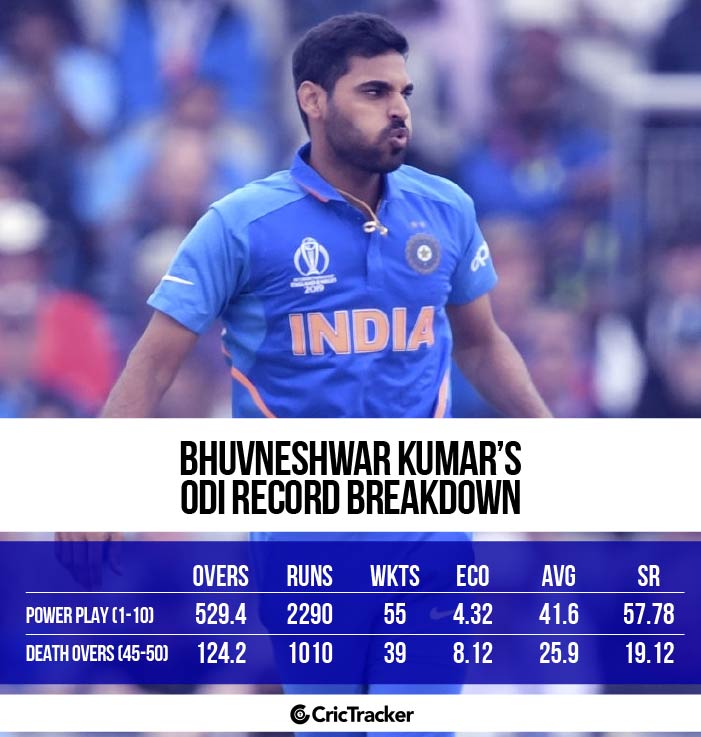 This pattern was followed by Kohli and Bhuvneshwar played one of the important pieces in his puzzle. Until 2019, Bhuvneshwar's wicket tally wasn't something to look for, however, it was his accuracy, which was yielding wickets for other bowlers and at times for himself as well. But, post-2019, his knack for picking wickets increased gradually. It was his second or third spell that started producing wickets when the spinners were not asserting the pressure on the opposition.
During the 2019 World Cup match against Australia, India was in a tight situation, with the tide of the game well paused. The match could have swung either way, but it was Bhuvneshwar's one over which made India the firm favourites. He managed to get the big scalps of Steve Smith and Marcus Stoinis to put Australia in a desperate situation in a match, which they eventually lost. A month later, while in the West Indies, he produced another similar effort. With six wickets in hand, West Indies were looking to be ahead in the match with only 92 runs required in 12 overs. But, Bhuvi came back to pick up two wickets in five minutes to shift the match towards India.
How Bhuvneshwar's injuries impacted Indian white-ball setup
In 2019, the Uttar Pradesh bowler managed to pick 33 wickets in 19 ODI matches, which has been his best calendar year so far. 2020 was destined to be a better year for him, but injuries and the pandemic didn't allow him to play a single match. With India producing fast-bowlers from every part of the country, Bhuvneshwar's efforts before his injury might not be forgotten, yet not been talked about for some time.
Injuries have restricted him from taking the center stage quite a few times. In early 2018, he had looked like a great prospect for the Test series in England after his success in South Africa. His ability to swing the ball would have been an important aspect with duke ball in the English conditions. But an injury didn't allow that. Furthermore, he soon fell out of favour from the Test line-up. It is strange that a bowler who has 21 wickets in his last five Tests at an average of 20.66, isn't even in consideration for the Test side. But, such is India's quality of pacers at the moment.
But, as he returns to the Indian limited-overs set-up, his responsibility will increase. With Jasprit Bumrah and Mohammad Shami not around for the England T20Is, Kumar will be the leader of the attack. 2021 could turn out to be a huge year for the right-arm pacer. His absence was felt when India lost the ODI series in New Zealand and Australia. Indian bowlers in those two series, failed to pick early wickets in the powerplay, something which Bhuvneshwar had mastered. On top of that, Bumrah's run in ODI cricket hasn't been very notable when his partner-in-crime has not bowled with him.
What lies ahead? A Test recall for England or losing his spot from ICC T20 World Cup?
2021 will also be a year when the Indian team will need Bhuvneshwar on top of his bowling mark again and again. There is an England tour. England means swing. England means duke balls. England means help for swing bowlers who can move the ball in the air and from the surface.
If Bhuvneshwar's bowling style needed an ideal surface to trouble batsmen, it would be in England, with a red ball. It will be a big call as far as the selectors are concerned if they don't take him for the England tour. Add to that the fact, he is possibly India's only pacer who can give them handy runs in the lower order. And guess who has three fifties in five Tests in England with a batting average of 27.44? Bhuvneshwar Kumar.
If we can leave out the ICC World Test Championship final and the five Tests against England, Bhuvneshwar Kumar will be once again required in the ICC T20 World Cup in India, to be played later this year. With Jasprit Bumrah, Mohammad Shami and T Natarajan already in the mix, Bhuvneshwar might see himself fighting for a spot. Deepak Chahar will also be in the mix with his good T20 record. However, Bhuvneshwar might edge past him easily, considering his experience and tremendous death-bowling numbers in T20s, which Chahar doesn't possess at this moment.
There is no doubt that Bhuvneshwar Kumar will be tested against England, who themselves have a T20-fit batting order. But, beyond this five-match T20I series, lies much bigger challenges for him. He recently returned to the field when he captained Uttar Pradesh in the Syed Mushtaq Ali Trophy and Vijay Hazare Trophy. He didn't get a host of wickets there, but his consistency with the ball was tough to go unnoticed. For now, as we look forward to the India-England T20I series, we can say that Team India's warhorse is back, fit and prepared, for what can just turn out to be the year when his team needs him the most.
Source: The source of this content is our cricket news platform Crictracker.
SportsInfo offers cricket, soccer, kabaddi, tennis, badminton, racing, basketball and other sports news, articles, videos, live coverage & live scores, player rankings & team rankings. Also, offers minute details of any match along with live commentary.