The Indian cricket team lost its first ODI series that was played since the pandemic began. Although the Men in Blue held their heads high with a brilliant victory in the final match, there are some pertinent problems that need to be addressed for the Indian team. As with most of the recent matches the team has lost, the first two matches were also due to a problem of rigidity within the Indian eleven.
Through the late 90s and early 2000s, India were not known for their bowling attack. They had a few good bowlers who could perform individually, along with a few legendary batsmen who were known for their part-time bowling skills.
The 2020 team has been able to solve the problem of a weak bowling attack to an extent but has found themselves amidst a new set of problems. India are a team of all masters and zero jacks.
Six specialist batsmen and five specialist bowlers is the general composition of this team.
Hardik Pandya was picked as a specialist batsman, considering he wasn't made to bowl ever since his back injury. However, he had a large heart to bowl for the team in the 2nd ODI, in a losing cause.
It seems like Virat Kohli is slowly realising the rigidity within the team, as he did give the ball to Mayank Agarwal as a seventh bowling option, although he proved expensive.
India did win the final match playing with just the five bowlers, but that might not prove sustainable for a team aiming to win three World Cups in the next three years.
The lack of quality sixth and seventh bowling options put additional pressure on each of the five bowlers, to bowl their best 60 balls in every match. And on a bad day, one of them becomes the worst-hit bowler for India in a match- viz Yuzvendra Chahal in the first ODI.
He most probably wouldn't have faced this situation in a team with legendary part-timers like Sachin Tendulkar, Sourav Ganguly, Yuvraj Singh and Virender Sehwag. As each of these players was capable of collectively absorbing the pressure of the additional bowler and support its bowling attack.
Speaking of these batting stalwarts, it's interesting to know that these four part-timers together have taken 463 wickets, a tally 22 more than two of India's top ten wicket-takers Zaheer Khan and Irfan Pathan put together!
And the following are the names of four of the greatest Indian ODI batsmen of all time. While wickets speak only one part of the story, here's a set of bowling stats of these four for India –
Now, let us take a look at the bowling figures of the current Indian batting lineup, which is deemed as one of the strongest in world cricket.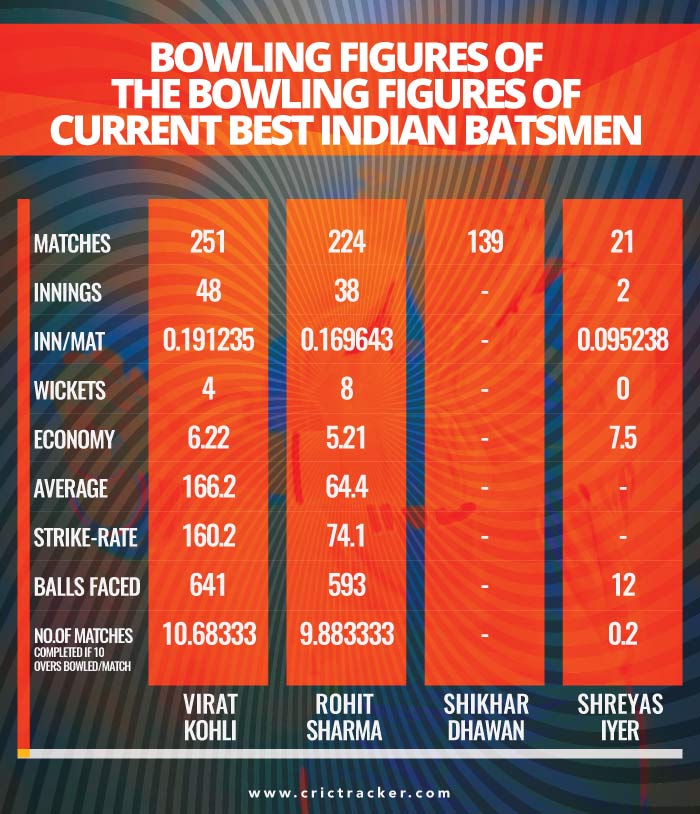 A total tally of 12 wickets- which is not even among the top 50 bowlers.
And when they are placed against an Australian team who possess equally strong batsmen with the ability to roll their shoulders, India definitely look like the weaker side here.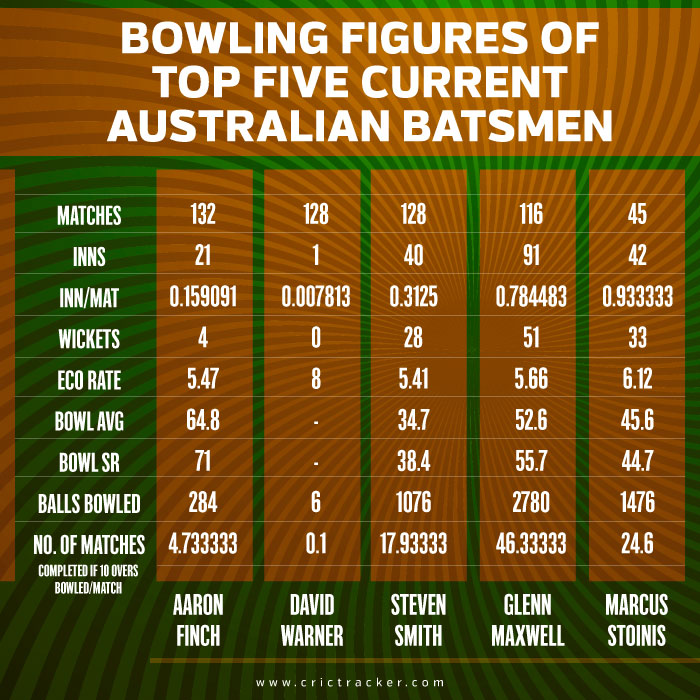 What does this say about the larger mindset at play in cricket now?
While it is evident that the top-ranking batsmen in the world today are only focusing on their batting skills- the likes of Babar Azam, Ross Taylor, Faf du Plessis, Shai Hope, Imam ul-Haq and Marin Guptill, one should also be cognizant of the larger team compositions they are part of. When other teams are continuously building players with multiple skill-sets, India continue to stay rigid.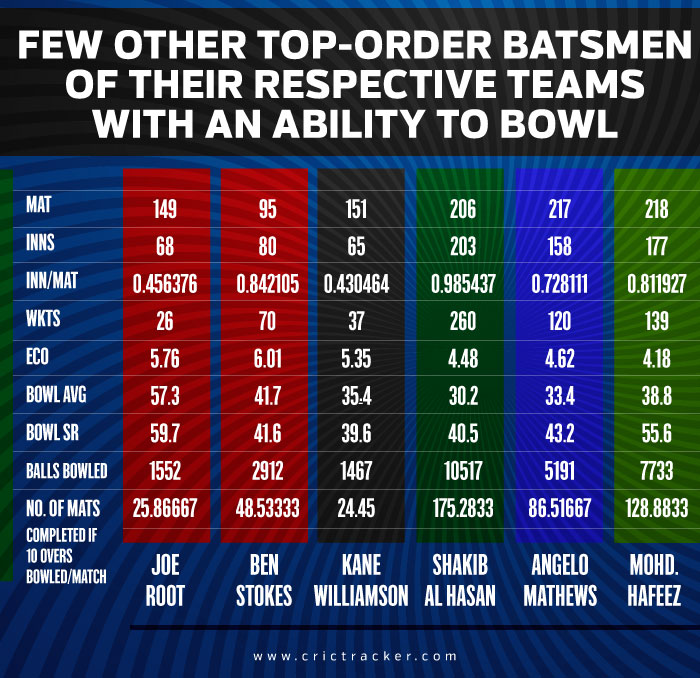 How does this affect the team in the pursuit of the next three World Cups?
It is clear that the King, Hitman and Gabbar Singh are some of the most prolific scorers of Indian cricket. Specialization does build strength and expertise for the assigned set of tasks, but on days where the specialists lose momentum, the team is on a road to collapse. This makes it easier for opposition teams to attack such blind spots and gain an upper hand both on the field and psychologically.
India may not require its superstars to bowl as frequently as the bygone legends, but the captain sure needs to find a solution for the 6th and 7th bowling options. Develop multiple skill-sets, or like the former selector, MSK Prasad famously spoke about Vijay Shankar in 2019, develop 3-D players who can win India the next set of World Cups in the 21st century.
Written by Narayanan Sreekumar
Source: The source of this content is our cricket news platform Crictracker.
SportsInfo offers cricket, soccer, kabaddi, tennis, badminton, racing, basketball and other sports news, articles, videos, live coverage & live scores, player rankings & team rankings. Also, offers minute details of any match along with live commentary.