At the end of Day 4 of the third Test in Sydney, the Indian scorecard read 98/2. Both the Indian openers were dismissed, and India had a daunting target of 407 to be chased down. And, even if a win was out of the equation, the visitors had to bat a whole day on a weary fifth-day pitch to ensure a draw. Even an ardent fan of the Indian side would have probably lost hope.
Can India possibly survive a whole day's play with the Australians baying for their blood? Would anybody stand up for the visitors when they were staring at a possible defeat?
But then, one man stood up and said that he will fight. And he fought with all his sweat, giving every single ounce of his energy to ensure that his side would not end up on the losing side. In an innings that he and the rest of his country would remember for a long time, a resolute Cheteshwar Pujara played out 205 balls (34.1 overs) out of the 131 overs that India played out in the second innings, scored a defiant 77 and ensured that the visitors pulled off an incredible draw.
The masterclass from Cheteshwar Pujara
Three days ago, Pujara had declared that he will bat in the only manner he knows and is comfortable with. In fact, these are the Indian No.3's exact words.
"I could not have done anything better, I would rather focus on the things I need to do as a batsman. I just have to bat in the manner I know to bat, even as a batting unit, you need to build partnerships and bat well as a unit," he said very candidly.
Yes. He batted in the only manner he knew, and that was enough for him to frustrate the Australian bowlers. Pat Cummins tried to bounce him out, Nathan Lyon tried all his variations, Josh Hazlewood bowled with superb accuracy, and Mitchell Starc tried his best to dislodge him. But to no avail. Pujara just proved to be impenetrable.
It was not as if he did not capitalize on the opportunity when it presented itself to him. In fact, during his marathon stay out in the middle, Pujara scored 12 boundaries, including three consecutive boundaries off Pat Cummins in the 83rd over of the innings. And, he proved to be the perfect foil to Rishabh Pant, who went hammer and tongs after the Aussie bowlers.
In fact, such was the dominance that the Pant-Pujara duo exhibited that when both of them were in the middle of their 148-run partnership, India would have even fancied chances of a win. And, Pant could take that license to dominate the Australian bowlers only because he knew that he had Pujara at the other end, who would neutralize any threat from the bowlers.
And finally, it required an absolute peach of a delivery to end Pujara's vigil. Josh Hazlewood bowled a delivery that pitched and moved away and beat the defence of Pujara. And, India's batting talisman walked back, after having played out more than two full sessions, and after having thwarted the Australian charge.
Pujara's numbers in a win or a draw for his country
Before going further, let us delve into Pujara's numbers in a win or a draw to understand his importance to the Indian Test batting line up. The table below will illustrate the same.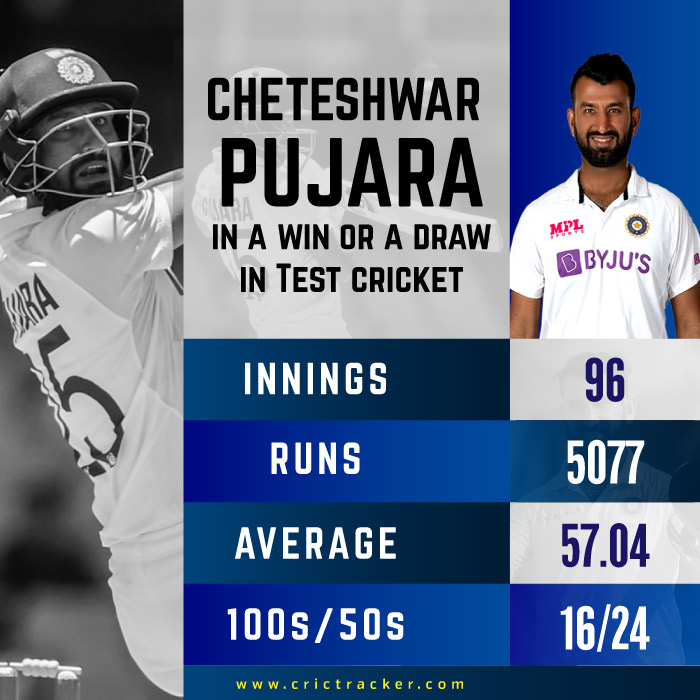 How does Pujara fare when pitted against the greats of Indian cricket? The above table will help us understand how important Pujara is, to the fortunes of the Indian side. Out of the 6030 runs that he has scored in Tests, 5077 runs (84.19%) have come in a win or a draw for his country. Out of his 18 Test hundreds, 16 have come in a win or a draw. And, out of his 27 Test fifties, as many as 24 have come in a win or a draw. There is no doubt that India's fortunes in Tests are intertwined with Pujara's exploits with the willow.
Now, Pujara completed another significant milestone during the Sydney Test and became the sixth fastest Indian batsman to score 6000 Test runs. Now, let us go ahead and compare the Indian batting mainstay with five other batting legends from India, who have breached the 6000-run mark faster than him to understand his value to the side.
The five other names that breached the 6000-run mark faster than Pujara are Sunil Gavaskar, Virat Kohli, Sachin Tendulkar, Virender Sehwag and Rahul Dravid. Now, let us stack Cheteshwar Pujara up against these batting giants and compare his numbers with the very best willow wielders that India has ever produced.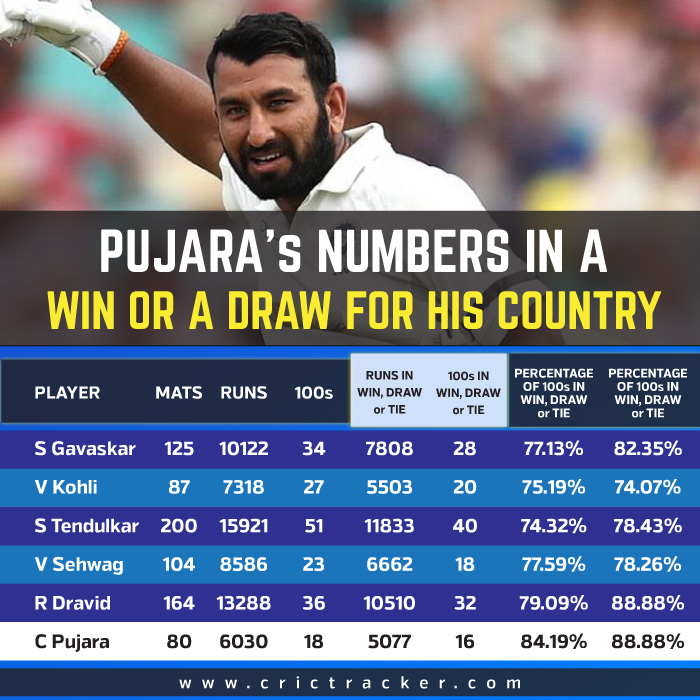 The above six names are those that have ruled Indian cricket with the willow. And, when Pujara is stacked up against such mighty names, his numbers stand out. Not even a single batsman except Pujara in the above table has scored more than 80% of his runs in a win or a draw. While Tendulkar has the lowest percentage of his runs in a win or a draw (74.32%), Pujara has a whopping 84.19% of his runs that have resulted in a win or a draw for his country.
Note: The names in the above table have been recorded in the order of them being the fastest to 6000 Test runs. Gavaskar was the quickest, followed by Kohli and so on. Also, Sunil Gavaskar was also involved in a tied Test and his numbers in the tied Test have been included as well.
Also, even with respect to centuries in a win or a draw, Pujara's record is incredible. Only Rahul Dravid (32 out of 36) can match Pujara's percentages in terms of scoring hundreds in a win or a draw for his country. Both Dravid and Pujara have scored 88.88% of their hundreds in a win or a draw. On the other hand, among the six illustrious willow wielders, Virat Kohli has the lowest percentage of his hundreds (74.07%) that result in a win or a draw.
Pujara will continue to bat the way he did
Yes. There might be some former Australian players who feel that Pujara has adopted a very defensive approach. There might be others who might feel that he has to accelerate more and change his approach in a Test match. But then, as the above numbers point out, Pujara just needs to do one thing now.
He needs to shut out all the cacophony that is happening around him and continue to grind the bowlers out, just like how he has done for a decade in the whites. For, it is the only way he knows to bat, and it is a way that has allowed both Pujara and India to reap rich dividends for a decade.
Note: All the stats have been taken from Cricinfo and have been updated after the third Test between India and Australia.
Source: The source of this content is our cricket news platform Crictracker.
SportsInfo offers cricket, soccer, kabaddi, tennis, badminton, racing, basketball and other sports news, articles, videos, live coverage & live scores, player rankings & team rankings. Also, offers minute details of any match along with live commentary.