Walk us through your experience with India A stints. How has that experience helped you grow as a professional?
I feel it has [helped] a lot. When you are playing for India A, that is one level above the domestic level and that level I think is a bridge between domestic and international cricket. So, the fact I was playing against international players was a brilliant chance. I travelled outside India and played in West Indies, New Zealand, and England, and the experience of foreign conditions gave me a lot of confidence and helped me grow professionally.
4000 FC runs at 50 with 13 100s. Big match runs in Duleep Trophy & for India A. He's 23, has a rock solid technique & an unflappable temperament. With KL Rahul sodhapifying badly, India must blood Abhimanyu Easwaran to open the batting in test cricket, the kid will serve us well.

— Wear Mask, Take Vaccine, Stay Home (@SriniMaama16) September 8, 2019
During your participation at that level, you have played alongside many senior players. How much have those opportunities helped you in terms of gaining exposure?
Yes, definitely. Because many international and senior players play there at times. I got a chance to play with Ajinkya Rahane, Cheteshwar Pujara, there. Watching them prepare for the game and just having the opportunities like sharing the dressing room apart from playing alongside them and following their game has taught me a lot.
You have had the privilege of learning the game from Rahul Dravid. What have you learned from him?
He has been a great mentor and my idol. Having someone who has played the game for so long is the best you can ask for. He has made many of us learn the small things that come after the experience of playing the game for years. He made me understand the technicalities of the game, taught me to be professional… helped a lot in improving me with the mental aspects of the game, and the best part is that he is been so approachable, always just one call away to help anyone with any problem or give any advice.
You have previously been a part of the team against England as a reserve. What conversations did you have with the established names in the international circuit?
The dressing room environment was just great. I had a great chance to experience that, talk and spend time with Rohit Sharma, Virat Kohli… it was really great. Against England, the best part was how the team bounced back. We lost the first Test in Chennai, so everyone was angry that the team lost at home. But there was nothing negative inside the dressing room and everyone backed each other because they knew we could do it. To be 0-1 down and then come back to win the series 3-1 was something phenomenal, so I really enjoyed being a part of the team at that time.
The challenge this time will be different as India will be travelling to England. The pace-friendly conditions, facing the Dukes ball – harder texture and pronounced seam, unlike SG or Kookaburra. How are you preparing? Also given that a chance might just come as it did for T Natarajan in Australia.
It will be a challenging tour but I am preparing well for it. We are trying to have different drills and trying to practice early in the morning to get as close to the conditions that I will face in England. The ball swings and seams there a lot longer as compared to India, so I am trying to practice on grassy pitches with some moisture.
[On getting a chance] I just want to be completely prepared and give my best to any chance that comes on my way. I have played alongside the players who went to Australia and gave such match-winning efforts so it is really inspiring.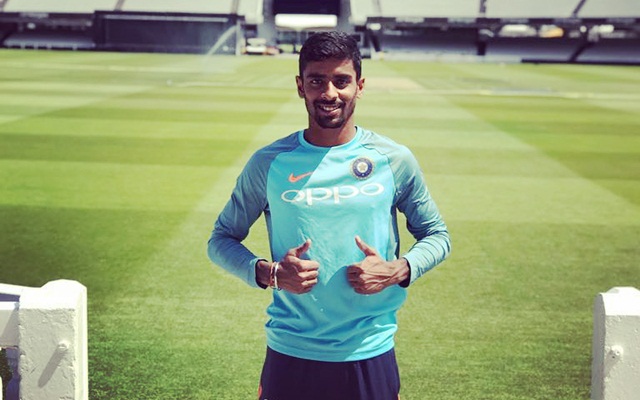 COVID has thrown an entirely different dimension of bio-bubbles into the sport. How has your experience with this new normal been?
Bubble-life has been tiring for sure because we need to take care of a lot of things. You cannot move freely, just sit in your hotel rooms, but it is now a part of the process, so just following it.
Thousands of young cricketers will be watching you. What is that one golden advice for them to scale heights like you?
I will recommend two things: one is to enjoy your cricket because that is the most important part for any player. That is why you play the sport. And the second is to be honest, and give your 100 per cent to the game. If you ensure that, success will follow.
Free Hit with Abhimanyu
Favourite shot: Straight drive
Favourite cricketing memory: [Laughs] Hard to pick, but I will choose my knock against Orrisa. I scored 88 and 39 on an extremely difficult batting track.
Favourite actor and actress: Amir Khan and Deepika Padukone
Favourite cuisine: Indian always
Beaches or mountains: Beaches
Guilty pleasure: I am not revealing that here! [Chuckles]
Source: The source of this content is our cricket news platform Crictracker.
SportsInfo offers cricket, soccer, kabaddi, tennis, badminton, racing, basketball and other sports news, articles, videos, live coverage & live scores, player rankings & team rankings. Also, offers minute details of any match along with live commentary.