The last couple of years have certainly not been great for Cheteshwar Pujara as India's 'modern-day wall' hasn't played that marathon knock he's known for. Pujara's last Test hundred came back in January 2019 against Australia, and many believe that he hasn't done much after that period. Questions have been raised over his batting style as his strike rate isn't that staggering. Many even believe that Pujara's slow scoring style tends to put pressure on other Indian batsmen.
However, has Pujara really become a liability for the Indian Test team or the dynamics of modern-day cricket has overshadowed his prowess? I strongly believe it's the latter. Seeing bowlers getting smashed all over the park is indeed entertaining to watch. Owing to this, T20, the youngest format of international cricket, has become a fan favourite. It also won't be wrong to say that the glamour of T20s has somewhat impacted red-ball cricket.
Even in Test matches nowadays, batters tend to accumulate runs at a brisk pace and the strike rate column has got more attention. Dashers like David Warner and Quinton de Kock even tasted success in Test matches with their aggressive stroke play. However, is it really necessary for batters to play fancy shots to earn recognition even in Test matches? Does Pujara's rock-solid defense have a place in the era of scoops and ramps?
Cheteshwar Pujara a liability for Team India?
If yes, then why there's so much hullabaloo over his strike rate? A concrete defense is deemed as the most important attribute which a batsman needs to thrive in red-ball cricket. Pujara has shown this skill throughout his career and tormented many potent bowling line-ups. We often see the Saurashtra-born batsman falling prey to a peach of a delivery. This is because mediocre ones aren't good enough to pierce his defense.
Batting at one down in Test matches, Pujara is subjected to different challenges. If the openers give a good start, the veteran has the onus to carry the momentum forward. At the same time, he is expected to steady the ship and play the role of a virtual opener when a wicket falls early. Pujara has thrived all these challenges but the only thing which concerned the people is the pace at he scores runs.
Pujara's thankless job deserves credit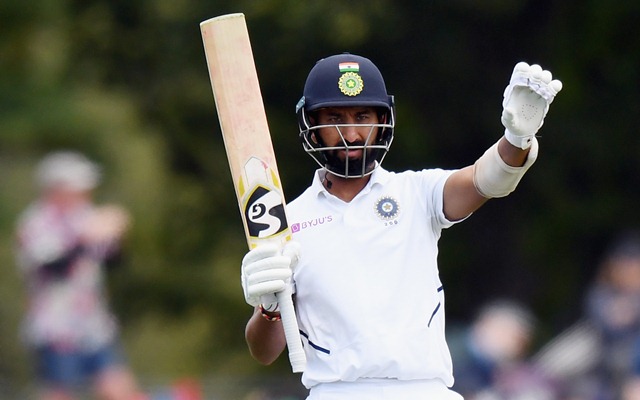 However, is there really a problem in scoring slow? Pujara is certainly not a swashbuckler who'll up the ante with his massive hits. Nevertheless, he does a thankless job of taking the sheen out of the ball and tiring the bowlers. Regardless of the conditions and situations, Pujara showcased his grit and tackled the red cherry with a straight bat relentlessly. This is certainly frustrating for the opposition captain and bowlers but the veteran doesn't get the due credit for the same.
Pujara takes the life out of the ball and bowlers by playing more and more deliveries, although dots. This certainly makes the job a little bit easier for the batsmen to come. Hence, it won't be too wrong to say that the likes of skipper Virat Kohli and his deputy Ajinkya Rahane have been benefited from Pujara's hard work. If someone is a fan of stats, only three batters have played more deliveries Pujara in Tests since his debut.
Most Balls Faced in Test matches since Cheteshwar Pujara's debut
| | | | | | |
| --- | --- | --- | --- | --- | --- |
| Players | Matches | Innings | Ball Faced | Runs | Strike Rate |
| Alastair Cook | 101 | 183 | 17534 | 8108 | 46.24 |
| Joe Root | 105 | 193 | 15933 | 8714 | 54.69 |
| Azhar Ali | 81 | 150 | 14951 | 6288 | 42.05 |
| Cheteshwar Pujara | 86 | 144 | 14038 | 6267 | 44.64 |
| Kane Williamson | 85 | 148 | 13967 | 7230 | 51.76 |
When Pujara showed there's life beyond flamboyant stroke play
Speaking of staying at the crease for long, Pujara even holds the record of playing most dot balls by an Indian in a Test innings. He did that against the mighty Australians in the third Test of the 2017 series in India. Batting first in Ranchi, the visitors posted 451 and India had a job in hand. Unfortunately, big guns like Kohli and Rahane went back in the hut cheaply.
However, Pujara didn't put his guards down and showed batting is much more than just playing fancy shots. He joined forces with wicket-keeper Wriddhiman Saha and the duo kept India in the hunt. The Aussies tried every trick in their bag to dismiss Pujara but all their efforts went in vain.
The Saurashtra batsman scored a famous double-ton and but importantly, he played 525 deliveries . Even his predecessor and idol Rahul Dravid never played that many balls in an innings. Riding on his prowess, India managed to save that game.
Most balls faced by an Indian in a Test innings
| | | | | | |
| --- | --- | --- | --- | --- | --- |
| Name | Ball Faced | Score | Opposition | Venue | Year |
| Cheteshwar Pujara | 525 | 202 | Australia | Ranchi | 2017 |
| Rahul Dravid | 495 | 270 | Pakistan | Rawalpindi | 2004 |
| Navjot Singh Sidhu | 491 | 201 | West Indies | Port of Spain | 1997 |
| Ravi Shastri | 477 | 206 | Australia | Sydney | 1992 |
| Sunil Gavaskar | 472 | 172 | England | Bengaluru | 1981 |
Pujara's thunder down under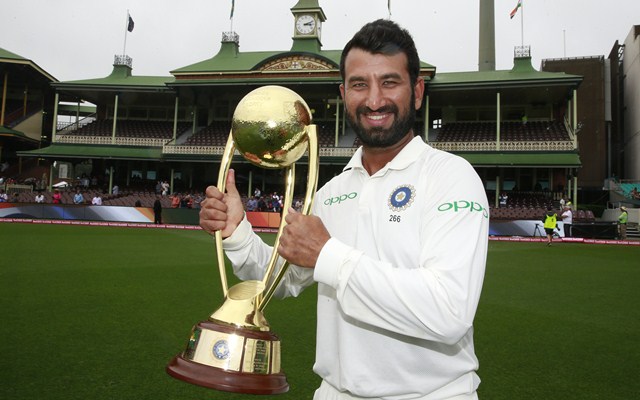 With David Warner and Steve Smith serving bans, Indian bowlers' job certainly became easier during the 2018-19 tour of Australia. However, the Aussie bowling line-up was still lethal as ever with Mitchell Starc, Pat Cummins, Josh Hazlewood, and Nathan Lyon in ranks. However, Pujara continued his love affair with Australia and made their bowlers toil hard in their own den.
While Aussie batsmen were struggling to get going, Pujara played one marathon knock after another. In total, he scored 521 runs in seven innings, third-most for any Indian in a Test series down under. More importantly, his heroics with the bat made India the first Asian team to register a Test series win on Australian soil. Pujara even received the Player-of-the-Series award.
In an interaction after that series, Cummins and Hazlewood, who are regarded as one of the best Test bowlers going around, picked Pujara as the toughest batsman they have bowled too. Now, this really shows what India's modern-day wall is!
Most runs by an Indian batsman in a Test series in Australia
| | | | | |
| --- | --- | --- | --- | --- |
| Name | Innings | Runs | 100/50 | Year |
| Virat Kohli | 8 | 692 | 4/1 | 2003-04 |
| Rahul Dravid | 8 | 619 | 1/3 | 2014-15 |
| Cheteshwar Pujara | 7 | 521 | 3/1 | 2018-19 |
What lies ahead of the 'modern-day wall'?
All these facts and performance certainly show that Pujara has done a commendable job in whites and any criticism regarding his strike rate should be laid to rest. Yes, his form hasn't been sensational lately but an average of over 46 after 86 Test matches is no joke either. Hence, the team management should be patient with him and critics must see Pujara's contribution from a wider perspective.
Meanwhile, the 33-year-old was last seen in the ICC World Test Championship final against New Zealand where he registered scores of 8 and 15 as India lost the game by eight wickets. Reports now suggest that the team management is planning to bench him for the upcoming five-match series against hosts England. Would this be the right way to go forward? Not sure! Keeping Pujara out of all five matches doesn't really seem realistic.
Hence, the veteran is all but likely to get his chance and he must make most of it. After all, the best way of responding to criticism is to shine with the willow. However, his job won't be easy as the Dukes ball does a lot of talking on English tracks and the veteran duo of James Anderson and Stuart Broad know what to do in these conditions. Hence, it would be interesting to see how this series unfolds for both Team India and their 'modern-day wall.'
Source: The source of this content is our cricket news platform Crictracker.
SportsInfo offers cricket, soccer, kabaddi, tennis, badminton, racing, basketball and other sports news, articles, videos, live coverage & live scores, player rankings & team rankings. Also, offers minute details of any match along with live commentary.