Test Cricket is definitely the most challenging format in the sport. It tests a player's skillset to the core, and very few are able to establish themselves as greats in this esteemed format. Traditionally, the No. 4 batting position is reserved for the best batsman in the team. The Tendulkars, the Laras, the Kohlis- they have all batted at this famed batting position for the majority of their Test careers.
Is No.4 is the toughest place to bat? That can vary as per the match situation. However, a batsman here should be ready to adapt anytime, whether the team is at 20/2 or 200/2. It is the perfect test of the batsman's ability to mould his game as per the situation. They essentially form the core of the batting lineup. In this article, we talk about the top 10 best Test batsmen at No. 4 of all time.
Here we rank the top 10 No. 4 Test batsmen of all-time:
10. Kevin Pietersen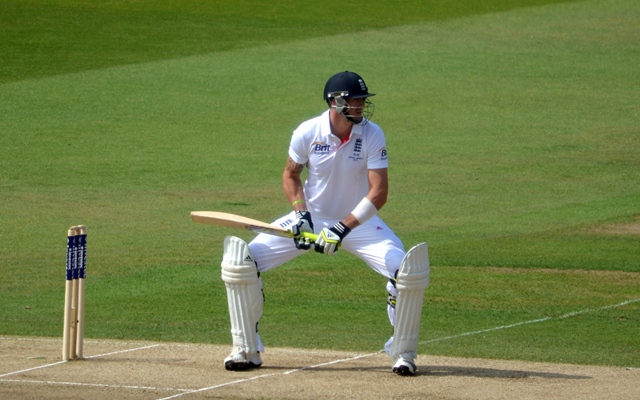 South Africa-born English batsman Kevin Pietersen is one of England's best all-format batsmen of all time. The flamboyant cricketer made his Test debut in the 2005 Ashes, as he dominated English cricket for the next decade. The Guardian called him "England's greatest modern batsman" in 2012.
Pietersen has 6490 runs in 139 innings at an average of 48.43, with 19 centuries and 27 fifties batting at 4. He is known to be a man for the big occasion, stepping up for the team in crunch situations. He has dominated the best bowlers in the world such as Dale Steyn, Shane Warne, and Anil Kumble, taking the attack to them fearlessly. He possessed a variety of strokes in his repertoire.
Pietersen is among the best players of spin England has ever had. His best Test performance came against India in 2012, where he scored 186 on a rank-turner in Wankhede after England were 1-0 down after the first Test. It turned out to be a match-winning contribution, as England won the match and consequently the series by 2-1.
9. Inzamam-ul-Haq
Pakistan's top run-getter in international cricket with over 20,000 runs across both formats, Inzamam represented the Men in Green from 1992 to 2007. He also captained Pakistan in 30 Tests and had a fairly decent record. He was called the "best batsman in the world against pace" by Imran Khan. That was due to his ability to have so much time on his hands before the ball came on to his bat.
Haq scored 4867 runs in 98 innings at an average of 52.90, with 15 centuries and 21 fifties. This goes to show that he consistently performed for Pakistan, making the number 4 spot his own. He was an excellent timer of the ball and one of the best pullers in the world. He was very consistent away from home as well, averaging over 50 with 2069 runs in 41 innings vs SENA countries batting at that position. This affirms his status as one of the best Test batsmen not just in Pakistan, but also in Asia.
Inzamam's most valuable performance came against New Zealand in Lahore. He became the 2nd Pakistan batsman after Hanif Mohammad to score a triple ton. It was a dominating performance as Pakistan amassed 643 runs and won the game by an innings and 324 runs. He was a match-winner- his average in won matches is only second to Bradman and Sangakkara.
8. Younis Khan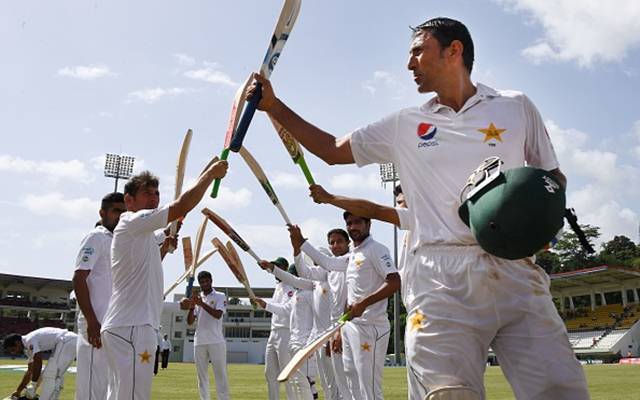 Former Pakistan captain Younis Khan had an illustrious Test career. He is the only cricketer in the history of the sport to have scored a 100 in every Test-playing nation. He is also the highest run-getter and has the most centuries to his name in Test Cricket for his country. Khan is among the rare breed with a conversion rate of over 50%, with 34 100s and 33 50s in a career spanning 17 years.
Khan scored 4985 runs in 107 innings at a monstrous average of 53.03, with 17 100s and 17 50s to his name. He is considered as one of the greatest players of spin bowling, but he didn't struggle away from home in pacer-friendly conditions. Particularly strong on the leg-side, he was a master-chaser in Test Cricket. He scored 991 runs in 23 innings at an average of 66.07( highest for anyone with minimum 500 runs), with 3 100s and 5 50s batting at 4.
One of Khan's better performances was his 4th innings 171* vs Sri Lanka in 2015. Pakistan were chasing a massive target of 377, as he walked into bat with the score at 13/2. He stitched partnerships with Masood and Misbah in what was the architect of a famous Pakistan win in Galle.
7. Virat Kohli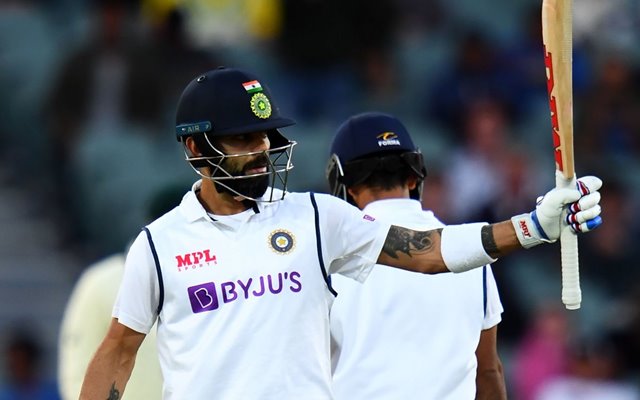 India's most successful Test captain Virat Kohli also finds a name in this esteemed list. Kohli has managed to maintain his consistency across the entire decade, being one of the nominees for the ICC Test Player of the Decade.
Kohli has amassed 5804 runs in 104 innings at a mind-boggling average of 59.22, with 23 100s and 14 50s. He has an unreal conversion rate, with 63% of his 50+ scores being 100s. He has performed in all major Test-playing nations, and has been the major reason why India has become a lot more competitive overseas. His most notable achievement has to be the Player of the Series award in England, 2018 albeit in a losing cause.
Kohli's best performance in the format came in his debut Test as captain at Adelaide. He scored 115 and 141, with the 141 coming in a 4th innings chase of 364 against the likes of Johnson, Lyon, Harris, and Siddle. Just like Tendulkar, he almost got India across the line but did not get enough support. However, that game announced the presence of Virat Kohli– the Test batsman and captain who won't shy away from going for the win.
6. Steve Smith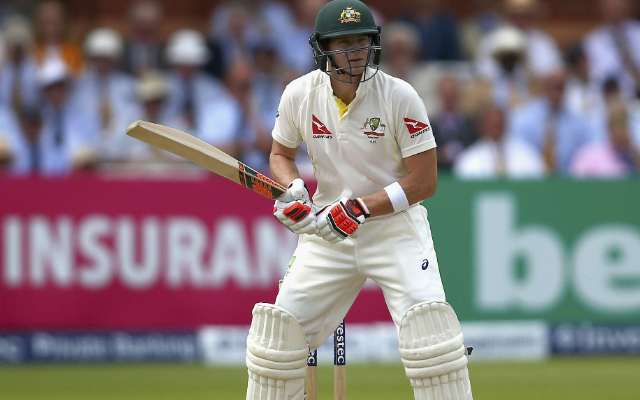 The world's best Test batsman among active cricketers, Steve Smith is a definite in this list of all-time greats in this format. The world has seen the rise of Steve Smith from being the 2nd highest wicket-taker in the 2010 T20 WC as a leg-spinner, to the best Test batsman of the generation. He is the frontrunner in the ICC Test Player of the Decade
Smith has the highest average batting at number 4 among players with at least 1000 runs batting at that position- 72.60. He has 3701 runs in 57 innings, with 13 100s and 15 50s. His most notable achievement in Test cricket is certainly the Man of the Series award in Ashes 2019, where he amassed 771 runs in 7 innings (3 100s, 3 50s), bailing Australia out of trouble countless amount of times. This made sure Australia were able to draw the series and retain the Ashes.
Smith's best performance came in his return to international cricket after he was banned due to the Sandpaper saga. He scored twin 100s against England in the first Ashes Test in 2019- 144 & 142. This announced his return against arch-rivals and showed that he was here to rule world cricket. The performances were well supported by his team, as they came in a winning cause.
5. Javed Miandad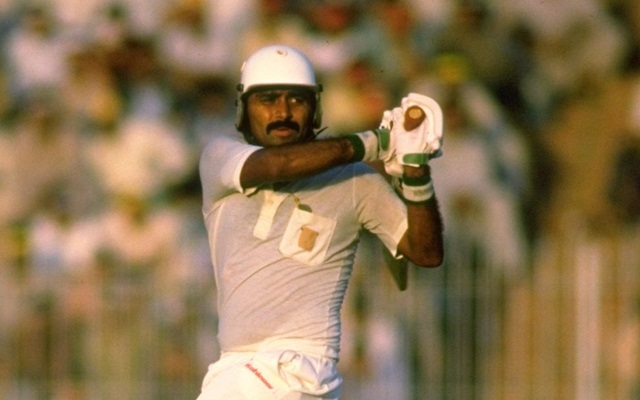 Described by ESPN Cricinfo as Pakistan's best Test batsman of all time, Javed Miandad is 5th on this list of elite batsmen batting at the coveted two down position in red-ball cricket. He was one of the most popular cricketers back in the day, and was known for his unconventional and aggressive batting technique. His control while batting was at a different level, as he took on some of the world's greatest in his Test career that lasted for 17 long years after his debut in 1976.
Miandad scored 6925 runs in 140 innings at an average of 54.10, the 5th most runs in Test Cricket batting at no. 4. In away Tests, that average remains in excess of 50- 3735 runs in 78 innings. This demonstrates his ability to perform in all conditions and against the best of the bowling attacks.
One of his best performances in the format came against West Indies at Georgetown in 1988 against the fearsome attack of Ambrose, Walsh, Patterson, and Benjamin. His defiant 235 ball 114 meant that Pakistan was able to take a first-innings lead of 134 runs, eventually winning the Test by 9 wickets.
4. Brian Lara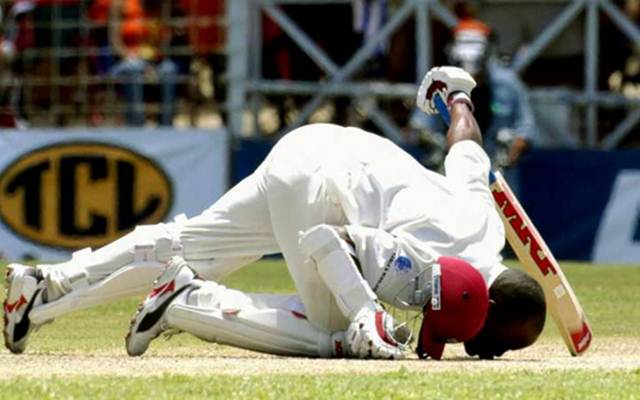 West Indies' Brian Charles Lara happens to be the only left-hander in this list. By far the greatest Test batsman ever, Lara was one of the most aesthetically pleasing batsmen to watch. He dominated the best bowlers in the world at will in their backyards, with his fearless cricket.
Lara scored 7535 runs in 148 innings at a healthy average of 51.25, with 24 tons and 31 fifties. He remains the only Test cricketer to have crossed the 400 run mark. He is in the elite club of batsmen with 2 triple 100s- Sehwag, Gayle, and Bradman. Besides, he was always in the debates of the best batsman with Sachin Tendulkar in the 15 years of cricketing career.
While Lara has scored a 400 and a triple ton, arguably one of his best performances in Test Cricket was 277 vs Australia in Sydney. It came against the likes of Shane Warne, Merv Hughes, and Craig McDermott in the bowling lineup. The match ended in a draw after Australia piled 503 runs in the first innings. He was adjudged the Man of the Match for his sublime batting.
3. Mahela Jayawardene
Sri Lanka batting legend Mahela Jayawardene is one of the most elegant batsmen to have graced this beautiful sport. He represented the national team for 17 years, from 1997 to 2014. He has been the man in crunch moments for the team in this format, as he became the first Sri Lankan to amass 10000 runs in Test Cricket. He also captained Sri Lanka from 2006 to 2010.
Jayawardene scored 9509 runs in 195 innings batting at 4, with 30 centuries and 35 half-centuries to his name. He is approximately 5000 runs ahead of the 2nd Sri Lankan on this list, Aravinda de Silva. Jayawardena is also only the 3rd Sri Lankan batsman to have a scored a triple hundred (374 vs South Africa, Colombo (SSC)) along with Sanath Jayasurya and Kumar Sangakkara.
Jayawardene's best Test performance came against England at Lord's in 2006. Sri Lanka were staring at an innings defeat after being asked to follow on. Jayawardene then stepped up for his team, playing a captain's innings of 119 which made sure that Sri Lanka are able to save the game after conceding a massive lead of 359 runs.
2. Jacques Kallis
One of Test Cricket's best all-rounders of all-time, Kallis would certainly walk into any Test team purely on the basis of his batting abilities. He was among the best batsmen in an era that comprised of players like Tendulkar, Ponting, Lara, and Dravid. He was a pivotal part of the South African team led by Graeme Smith, which won a Test series in Australia, New Zealand, and England and also drew in India.
Kallis has the highest average among players with at least 5000 runs batting at 4- 61.86. He has 9033 runs in 170 innings, with 35 100s and 36 fifties to his name. He has also scored two double tons in the format vs Sri Lanka and India, both of which have come on home soil. Like Tendulkar, Kallis was also a dominant force away from home- 4126 runs at an average of 58.11, with 16 100s. He is one of the biggest match-winners in Test Cricket, with the most Man of the Match awards ever- 23 in 166 games.
One of his top performances was 109* vs West Indies, 2004/05. South Africa were asked to follow on, as they were trailing by 355 runs and 160 overs were left in the game. Kallis fought against the circumstances, coming in to bat at the dawn of Day 4. He grinded it out for 7 hours, eventually saving the game for the Saffers.
1. Sachin Tendulkar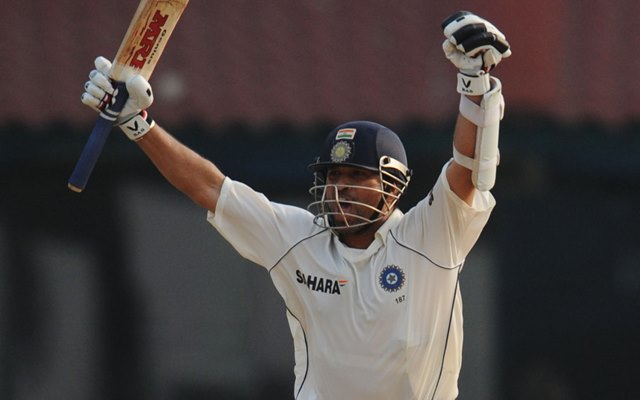 Australian opener Matthew Hayden once said, "I have seen God, he bats at no.4 for India in Test Cricket." This statement defines the legacy of 'Master Blaster' in a nutshell. Tendulkar has played the most matches (200), scored the most runs(15921), and scored the most 100s (51) in Test Cricket.
Tendulkar sits on top of the list of batsmen with most runs scored batting at no. 4. He has 13492 runs in 275 innings at an average of 54.40, with 44 100s and 58 fifties. Six of those 100s were double tons, which goes to show the ability of the man to bat for long hours. Another impeccable thing to note was his performances away from home- 7083 runs in 137 innings at an average of 57.58.
One of his best performances in Test Cricket was- 135 vs Pakistan in the 4th innings of Chennai Test, 1999. Although it came in a losing cause, Tendulkar almost singlehandedly got India across the line against arch-rivals in extremely hot and humid conditions.
Source: The source of this content is our cricket news platform Crictracker.
SportsInfo offers cricket, soccer, kabaddi, tennis, badminton, racing, basketball and other sports news, articles, videos, live coverage & live scores, player rankings & team rankings. Also, offers minute details of any match along with live commentary.