With the ICC T20 World Cup 2021 taking a countdown, all teams are gearing up for the gala tournament. The competition is scheduled to take place in October and November on Indian soil. T20 matches have been dominating the cricket calendar in the past few years, and many teams even have their sets of T20 specialists. Hence, fans must brace themselves to witness some mind-boggling action in the T20 extravaganza.
The 20-over version has indeed changed the dynamics of the game over the years. Due to this, we get to see batsmen smashing sixes while sitting on the ground, a sight that was unimaginable a couple of decades ago. Moreover, the format has also inspired bowlers to develop variations like wide yorker and slower bouncer, something a coach would never advise in the 90s. T20 has also enhanced the fielding standards as we see players flying and throwing themselves here and there to take catches and effecting run-out.
With the game demanding so much, cricketers today are athletes by putting their fitness as their priority. They tend to spend a lot of time in the gym and also have a specific diet plan. Hence, one can see the results in their well-toned body with chiseled abs. Many such fitness freaks will be participating in the T20 World Cup later this year and we'll be looking at the fittest players from the top eight sides.
Fittest cricketer from each team going in T20 World Cup 2021
England – Ben Stokes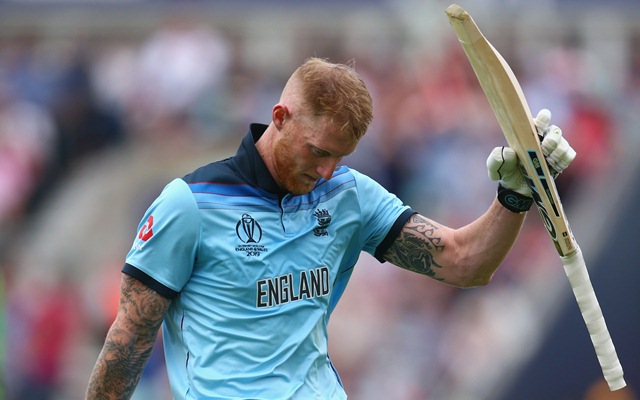 Arguably the best all-rounder at the moment, Stokes has troubled many teams with his batting and bowling prowess. The England cricketer is also among the best players when it comes to fielding. The southpaw has pulled off many spectacular catches near the boundary ropes, and his fiery throws have also left fans in awe.
Just in case you think the likes of Jason Roy or Jos Buttler should have made it to the list above Stokes, you should watch the second Test between England and the West Indies last year. In the 43rd over, Jermaine Blackwood smashed Stokes down the ground. As there was no mid-off or long-off in place, the all-rounder himself decided to run back and even managed to stop the boundary. Now, that's what you call ridiculously sensational!
Notably, Stokes had a forgettable outing when he last featured in a T20 World Cup match. In the finals of the tournament in 2016, Carlos Brathwaite smashed the England pacer for four consecutive sixes in the final over to take his side to glory. However, a lot has changed since then and Stokes will have a chance to redeem himself.
India – Virat Kohli
Now, this shouldn't surprise you by any means. While the Indian team has fitness icons like Ravindra Jadeja and Ajinkya Rahane, their skipper is still above all. Back in his early days, Kohli had a chubby body with his cheeks puffed up. On top of that, Kohli was a big foodie with butter chicken and chole bhature being his favourite dishes. However, Kohli sacrificed all this in order to touch new heights.
It was the year 2012 when Kohli became more particular about his fitness and the result is in front of us. Kohli is arguably the fastest runner between the wickets and his agility in the field is also second to none. Along with his fitness, his performances also kept getting better and at 32, the Delhi-born cricketer has become a legend of the game.
Kohli indeed set a benchmark with his fitness standards and brought a revolution in Indian cricket. In fact, he has inspired the entire youth of India to maintain their body. Notably, Kohli won the Man of the Tournament awards in the last two editions of T20 World Cups.
New Zealand – Trent Boult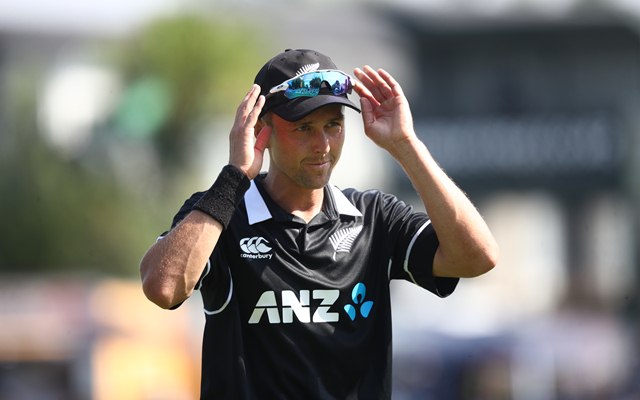 New Zealand cricket has taken giant strides in the last few years and a lot of credit goes to Trent Boult. The left-arm pacer has been tormenting opposition batsmen with his thunderbolts and guided the Kiwis to numerous wins across formats. His record in international cricket is also nothing less than jaw-dropping. However, one thing which separates Boult from most of the pacers is his knack for staying away from injuries.
Despite playing all three formats regularly, Boult hasn't coped with many injuries, which speaks a lot about his fitness. The fast bowler works a lot on his body in the gym, resulting in his speed and agility. Hence, on many occasions, we have seen Boult creating magic near the boundary ropes.
Who can forget his tremendous catch to dismiss Virat Kohli in the Indian Premier League (IPL) 2018? Moreover, Boult has been in impressive form lately, and he'll be raring to shatter many timbers in the T20 World Cup. Hence, opposition batsmen should beware of this pace machine.
Pakistan – Shadab Khan
Shadab has been an integral part of Pakistan's white-ball team lately due to his three-dimensional abilities. While the leg-spinner can restrict the run-flow with his tight bowling in the middle overs, his big-hitting abilities in end overs make him a greater asset. Apart from this, Shadab is a live wire on the field, which shows his fitness.
Fielding hasn't been the Pakistan team's forte, and many players of the team have faced criticism over their fitness. However, Shadab is an exception. The young all-rounder has a lean physique, and he also runs brilliantly across the field. Owing to this, Shadab has taken numerous scintillating catches and affected run-outs as well.
An all-rounder has become a necessity for a side in modern-day cricket, and Pakistan have entrusted Shadab Khan for the role. So far, the leggie has done an impressive job and even climbed up to second place in the T20I bowling rankings. Hence, a lot will be expected from him in the T20 World Cup.
Australia – Glenn Maxwell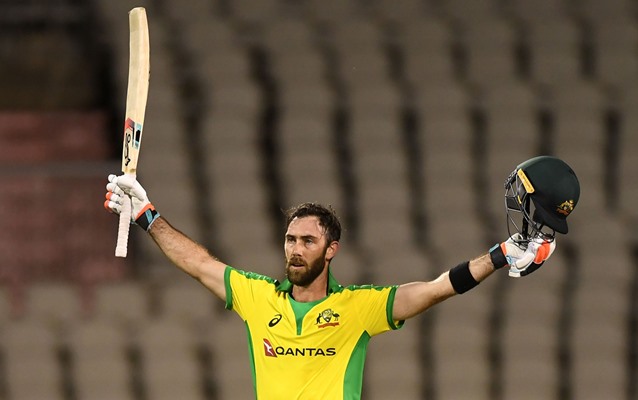 Australia have produced many great players in the past, and their current side is formidable as well. While batting stars David Warner and Steve Smith have instilled fears in oppositions' minds, fast bowlers Pat Cummins and Mitchell Starc don't need any introduction. However, one Aussie who stands out in the fielding department is Glenn Maxwell, and he's the fittest cricketer from the team.
Hailed as Big show, Maxwell has a lean physique which makes him a great asset while fielding. Time and again, we have seen the all-rounder taking unbelievable catches and also stopping certain-looking sixes. He's also a brilliant runner between the wickets. All this requires great speed and agility, which Maxwell has attained with his hard work.
On top of his fitness standards, Maxwell is also one of the most celebrated T20 players across the globe. His big hits can change the course of the game quickly while his off-spins have been handy at times. And we have already mentioned his fielding prowess. Hence, he'll be critical to Australia's success in the marquee T20 event.
South Africa – Kagiso Rabada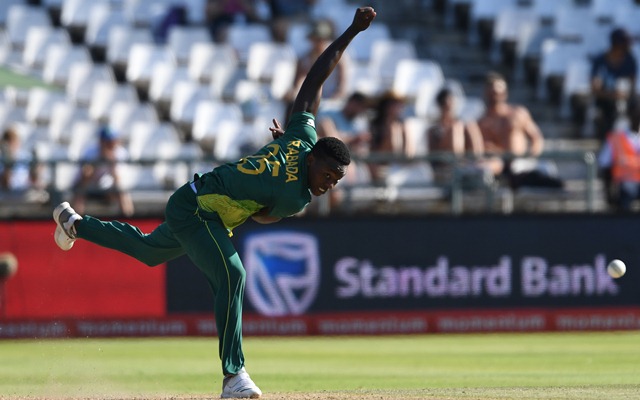 South African cricket has endured a tough time in the past few years, with greats like AB de Villiers, Hashim Amla, and Morne Morkel bidding farewell to international cricket. However, there are still some youngsters who are deemed to take the Proteas side to greatness again. Needless to say, Kagiso Rabada belongs to that category as, alongside being a wicket-taking machine, he's the fittest player in the squad.
Fast bowlers are prone to injuries, and the risk of sustaining a wound is even higher if someone bowls at high speeds. However, this fact isn't applicable for Rabada, as he plays all three formats regularly. Moreover, he seldom bowls below the 135 kmph mark which is another reason why he is the fittest player in the South African squad.
Rabada will be spearheading South Africa's pace attack in the gala tournament and many eyes will be on him. Playing in IPL in the last few seasons, the talismanic pacer is also not alien to the Indian tracks. However, he'll require support from his fellow teammates to take South Africa to glory in the upcoming T20 World Cup.
Afghanistan – Rashid Khan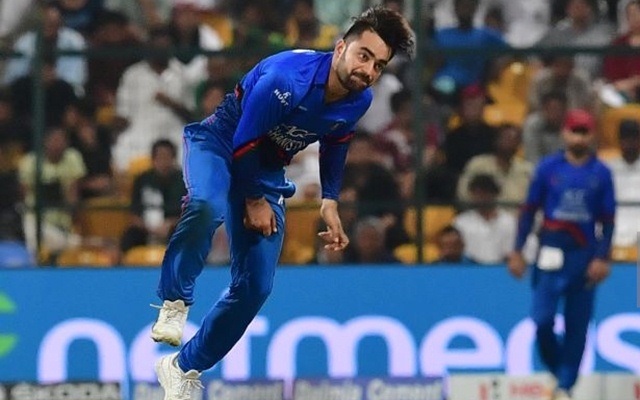 The T20I player of the decade, Rashid Khan has been the torchbearer of Afghanistancricket ever since making his international debut in 2015. While the leg-spinner is undoubtedly the best bowler in the Afghanistan squad, he is also the fittest player. Unlike most of the players in this list, the leg-spinner might not have well-chiseled abs but you shouldn't go by his looks.
Rashid is often spotted fielding in important areas as he tends to collect and throw the ball pretty quickly. Moreover, he has pulled off several sensational catches near the boundary ropes and inside the circle as well. At 22, Rashid still has a long way to go in international cricket, and one can expect his fielding skills and fitness standards only to go upwards.
The talismanic leg-spinner is also the second-ranked T20I bowler and needless to say, he needs to unleash his A-game to give Afghanistan a chance in the tournament. He has indeed been one of the top performers in IPL in the past few years, but it requires a team effort to win a World Cup.
Sri Lanka – Kusal Perera
Kusal Perera was recently named Sri Lanka's ODI captain and is also likely to lead the side in the 2021 T20 World Cup. The wicketkeeper-batsman surely has a job in hand as Sri Lanka hasn't done well in the past few years. Hence, he needs to lead the side from the front to bring the glory days back in the Island nation.
Although Perera is a professional wicket-keeper, he has displayed some brilliant fielding efforts near the boundary ropes. He's a swift runner and also has a safe pair of hands. With Sri Lanka not having many fit players, Perera needs to set an example to bring a revolution on the national side.
Meanwhile, Sri Lanka will step into the tournament as underdogs and it would be interesting to see if they can push aside some upsets. Perera has been a cornerstone of Sri Lanka's batting line-up in the past few years. However, he'll now have the onus to shine as a leader.
Source: The source of this content is our cricket news platform Crictracker.
SportsInfo offers cricket, soccer, kabaddi, tennis, badminton, racing, basketball and other sports news, articles, videos, live coverage & live scores, player rankings & team rankings. Also, offers minute details of any match along with live commentary.