Test cricket is more of a curiosity to the modern generation. As most of the fans look forward to the shortest format to have a great time, some people still rely on Test cricket to give them the thrills. To admire Test cricket, you have to give it some time. The longest format of the game tests the patience, determination, skill, and temperament of a player.
To thrive in the format, one has to keep a clear head and focus on the given moment. Sounds easy? Well, it drains out the players and even the best cricketers in the world fail to dominate every time, which is very much possible in the twenty overs format. It is so easy to criticize the batsman as he scores 7 off 100 balls, but for a Test admirer, it is a commendable effort.
Over the years, Test cricket has witnessed exceptional players who have defied the odds and saved the game for their country. The instances of Kolkata, Birmingham, Adelaide, and many more have revived the games and the credit for this goes to the players who stood up like a wall.
Here are the top 10 most dependable Test batsmen of all time:
10. Inzamam-ul-Haq (Pakistan)
Inzamam-ul-Haq belongs to the group of players who were a part of the 1992 World Cup team and shaped the future of Pakistan cricket. His incredible 60 off just 37 deliveries helped Pakistan to win their semi-final encounter against New Zealand. This enabled him to cement his place in the Test team and he made his debut in 1994 against Australia. What followed after was nothing short of sensational.
In the first match at Karachi, Inzamam played a knock that defined him as a cricketer. He made 58 runs during the fourth innings while chasing. Although the scores do not look humongous, a batting effort of 58 runs while batting with the tailenders makes it a priceless achievement. With the last man, he put on 57 runs to help Pakistan cross the line from a very tight situation, He also made 138 runs against Bangladesh in 2003 to save Pakistan from an embarrassing defeat.
Inzamam represented Pakistan in 120 Test matches and has scored over 8830 runs at an average of 49.33. Apart from that, he has scored 25 Test centuries with the highest score of 329 runs. Even though he was a part of multiple memes related to running between the wickets, Inzamam's wrist work left the spectators awestruck. Inzamam, because of his skillful batting and match-saving ability, makes it to this list of the top 10 most dependable Test batsmen of all time.
9. Sunil Gavaskar (India)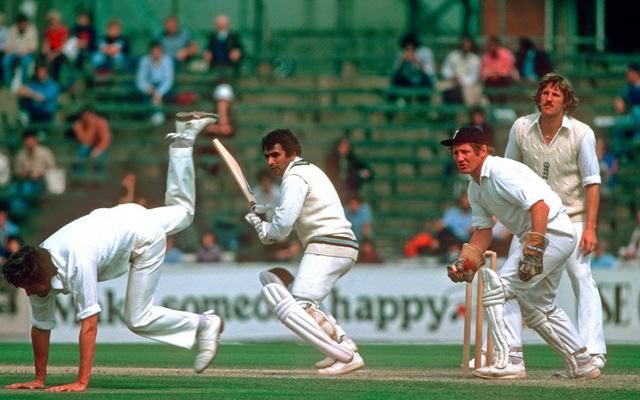 Most of the Test fans might have not witnessed the magic of Sunil Gavaskar. Although technology enables people to follow cricket closely during the 90s, people idolized Sunil Gavaskar even before the era of technology. The name Sunil Gavaskar is synonymous with grit, temperament, character, and strong will power in the cricketing dictionary. Gavaskar was the poster boy of Indian cricket for a very long time and deservingly held the title of the Little Master.
Gavaskar is arguably the greatest opening batsman of all time. If we talk statistically, he was one of the most successful in the history of Test cricket. He had all the shots in the book and most importantly, a daring nerve, which was rare during that era given the fact that the West Indian bowling lineup was considered as "deadly". In the 125 Test matches he played, Gavaskar scored 10122 runs with an average of 51.12. This feat is priceless given the fact that he was the first Indian to show some consistency in the greatest stage.
Gavaskar has the highest Test score of 236 and has faced over 15327 balls in his Test career. This feat is enough for the fans to consider Gavaskar as one of the best in the circuit. Now, with multiple superstars shining on the grandest stage, Gavaskar was the first Indian to do so. He was the first cricketer from the subcontinent to put a "price to his wicket". This enables Gavaskar to make it to this list of the top 10 most dependable Test batsmen of all time.
8. Sir Alastair Cook (England)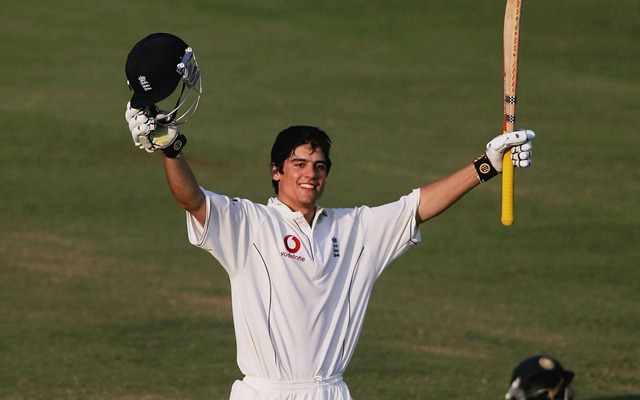 In the world of English cricket, it is never easy to be a Test opener. The new balls do the talking and it takes great quality to survive in those conditions. But, for Sir Alastair Cook, it is a matter of being consistent and focused. The southpaw is widely regarded as one of the greatest Test match openers of all time.
The English player has more Test centuries than any other English batsman. His ability to score "daddy hundreds" makes him the most impressive English Test batsman of all time. Cook has scored over 7 scores over 150 with 2 double centuries. Well, no one can forget his marathon knock of 294 against India at Birmingham in 2011. His inning of 122 against India on a rank turner enabled him to enter the league of legends.
The English team struggled in the subcontinent and Australia because of the difficult situations. But, for them, Alastair Cook was their savior. He excelled in those tough conditions as England became the powerhouse in world cricket. In 161 innings, he has scored 12472 runs with 33 Test centuries, the most by any English player. This enables him to make it to this list of the top 10 most dependable Test batsmen of all time.
7. Brian Charles Lara (West Indies)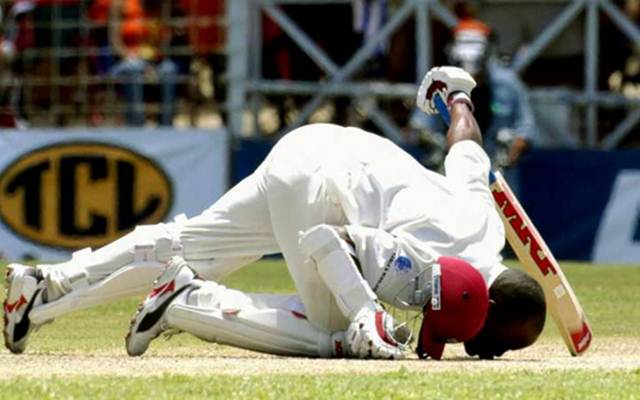 When a cricket fan notes down the greatest batsmen to ever have played the game, it is of no doubt that the list will include Brian Lara. He was a wizard who received West Indies cricket. He will belong to the set of great elites like Sachin Tendulkar, Ricky Ponting, and Jacques Kallis. With a high backlift and a typical Caribbean flourish, Lara was equally comfortable with spin and pace.
In the 131 matches he played, he scored 11953 runs at an average of 52.89. He still holds the record of the most runs scored in a Test inning, with a score of 400 runs against his name. Talking about the centuries, he scored 34 hundreds in international cricket. Lara was able to cross the two-hundred run mark nine times in his career, which speaks of his importance.
Lara has also cracked the 500 run barrier for Warwickshire and was widely regarded as the best batsman during that era before Sachin took that title from him. He has scored a century against every Test-playing nation, a record which is also held by the Indian legend Rahul Dravid.
This legendary batsman has helped West Indies cricket to stay afloat while most of their players were looking forward to investing their time in the limited-overs format. Therefore Lara makes it to this list of the top 10 dependable Test batsmen of all time.
6. Kane Williamson (New Zealand)
Kane Williamson's ability to score "Big Daddy" hundreds consistently has enabled him to become one of the greatest batsmen of this era. If we look into the facts that make him one of the greats of the game, we will encounter the fact that he has a terrific mental strength, and determination to defy all the odds. If we argue that why he is chosen ahead of Kohli, Williamson thrives in pressure situations and is more dependable than the Indian captain. Although Kohli might be the best in the world at the moment, the Kiwi skipper might overtake Kohli in terms of dependency.
He has represented New Zealand in 83 Test matches and has scored over 7115 runs with an average of 52.12. He has scored over 24 Test centuries and has the highest score of 251 runs. Taling about his consistency, he has scored two double centuries within three weeks in this season. This feat is special given the fact that COVID-19 has affected the method in which cricket is being played.
He made history when he was the chief architect of New Zealand's first away Test series win over Pakistan in 49 runs. Kane scored 89 and 139 runs in the final Test and guided the team to victory. The year 2019 and 2020 was a magical one for the Kiwi captain. His consistent efforts have enabled him to make it to this list of the top 10 most dependable Test batsmen of all time.
5. Jacques Kallis (South Africa)
Arguably the greatest all-rounder of all time, Jacques Kallis was the go-to man for every South African captain since his debut. His stats in all forms of the game makes him the greatest player to grace the earth. He has scored over 100000 runs and has taken over 250 Test wickets in both forms of the game. Since, his debut, he was an asset to his nation.
Kallis came into the international arena in 1995. In his seventh Test match, he produced a match-saving hundred against Australia at the MCG. After that invaluable innings, he was the rock that laid the foundation for South African cricket to dominate the world. If we take the technical frame, Kallis was comfortable playing both the seamers and spinners. A skill which only a few people have in the sport.
In the 166 Test matches he played, he scored over 13289 runs with an average of 55.37. In the longest format of the game, he has the highest test score of 224 with 45 centuries to his name. Talking about his bowling, he has taken 292 wickets in his career, making him one of the most valuable players of all time. Therefore, he makes it to this list of the top 10 dependable Test batsmen of all time.
4. Ricky Ponting (Australia)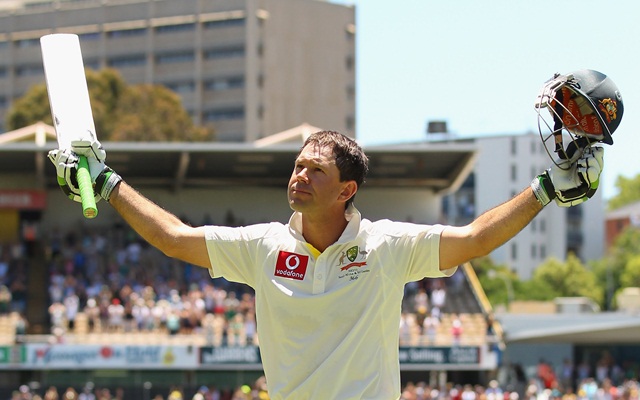 The credit for the rise of Australian cricket goes to Ricky Ponting. The stylish right-handed batsman made a team the went on to dominate world cricket for over a decade. He was a typical Aussie, tough, aggressive, and mentally strong to tackle pressure situations. Apart from brilliant captaincy, he was the best batsman of the strongest Australian lineup.
His consistency can be determined from the fact that Ponting scored 41 international centuries within five years! After his retirement, he was only second to the great Sachin Tendulkar in terms of international runs and centuries. Consistency made him one of the greatest to ever play the game.
Ponting represented Australia in 168 test matches and has scored over 13378 runs with an average of 51.85. His Test highest score is 257 and has smashed 41 hundred in his test career. His consistency and positive approach enabled him to dominate world cricket for over a decade. Hence, he makes it to this list of the top 10 dependable Test batsmen of all time.
3. Kumar Sangakkara (Sri Lanka)
Kumar Sangakkara is widely regarded as the greatest Sri Lankan batsman of all time. He carried the burden of Sri Lankan cricket for over fifteen years. Even after retiring from international cricket in 2015, he still made it to the Test team of the decade. This showcases his influence in international cricket.
In the 134 Test matches he played, he scored 12400 runs with an average of 57.14. In his career, he faces 22882 balls. Talking about his centuries, he has scored 38 centuries in Test cricket and has eleven double hundreds to his name. Sangakkara has the highest Test score of 319 runs and has helped Sri Lanka to stay afloat in world cricket.
His 192 in Hobart against Australia in 2007 showcases his ability to score in difficult situations. Talking about his versatility, he is one of the few batsmen who have the amazing record of surpassing 10,000 runs in both Test and ODIs. Also, Sangakkara had a vital role in leading Sri Lankan cricket to glory in various matches. This enables him to make it to this elite list.
2. Sachin Tendulkar (India)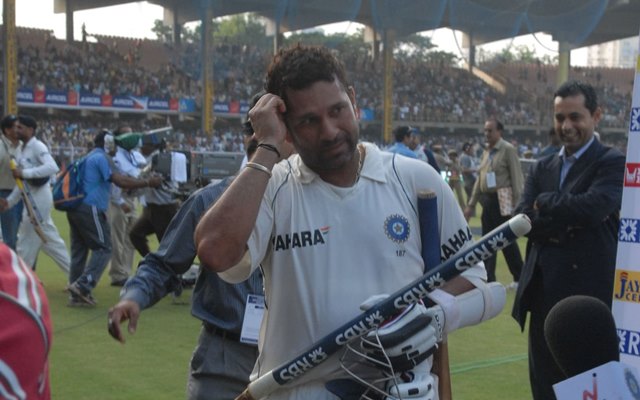 His name is enough to electrify a dead stadium. Sachin Tendulkar will probably remain as the greatest batsman of all time. Irrespective of conditions and oppositions, the icon carried the burden of the nation for over two decades. If someone visits India, he might witness Sachin's portrait hanging in every aspiring cricketer's room.
The Indian legend has scored 15921 runs in 200 Test matches with an average of 53.79. He has faced over 29437 balls and has 51 centuries to his name. Apart from that, he has six double centuries to his name and has the highest Test score of 248 runs. Post Sunil Gavaskar, he became the next batsman to score over 30 centuries in Test cricket.
Statistically, he holds almost every record in Test cricket and is the highest run-scorer in the game. When Don Bradman saw his batting, he stated that he was very struck by his technique and he felt that Sachin is playing much the same way as he used to play. For a batsman to be compared to Don Bradman makes him the greatest of all time. Because of his monumental efforts, Sachin makes it to this elite list.
1. Rahul Dravid (India)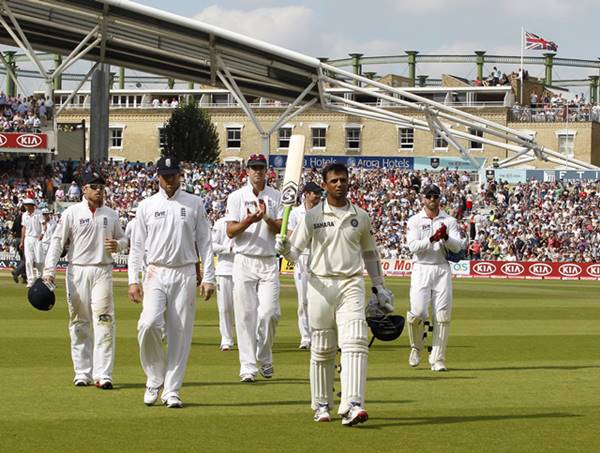 Surprised to see Dravid at the top? Well, it is where he should be! For a player who dominated world cricket for over a decade, Rahul Dravid is arguably the greatest Test batsman in the modern era. Through hard work and perseverance, he defied all odds and made sure that India escaped a collapse when India was reeling. His ability to occupy the crease made him a household name and the people ofter referred to him as the wall!
On debut, he scored 95 runs at Lord's, which was overshadowed by Ganguly's spectacular 131. However, an excellent inning of 217 at The Oval and a flawless 148 on a green surface at Leeds was enough for Dravid to become India's best Test batsman. He was a part of the fab four, which included the likes of Laxman, Sachin, and Ganguly. But, Dravid's importance was realized during India's tour of England in 2011.
In 2011, it was just a one-man show, Dravid made 3 fifties and 3 hundreds during the series while other stalwarts failed miserably due to fitness issues. He was the premier number three batsman for the country and has scored over 13288 runs in 164 matches. Dravid faced over 31258 balls in his Test career, which is the highest for any batsman. Apart from that, 36 Test centuries during critical situations make him the most dependable batsman in the history of the game.
Source: The source of this content is our cricket news platform Crictracker.
SportsInfo offers cricket, soccer, kabaddi, tennis, badminton, racing, basketball and other sports news, articles, videos, live coverage & live scores, player rankings & team rankings. Also, offers minute details of any match along with live commentary.