After 3 intriguing T20Is with countless numbers of twists and turns, the SA vs ENG T20I series has concluded in a comprehensive 3-0 drubbing in visitors' favour. This score line reflects on just how extraordinarily consistent England are as a side and the immeasurable depth they are blessed with. They are undoubtedly one of the favourites for the upcoming T20 World Cup in India.
South Africa, however, just could not compete with such a well-oiled engine. Matters were made worse when it was evident that their playing XI had a plethora of concerning flaws. These imperfections must be solved swiftly if the Proteas want to stand a chance of assembling a decent side. However, despite the uncompetitive result of the series, there still exists some excellent individual performances that we can all cherish and savour.
5. George Linde's immaculate debut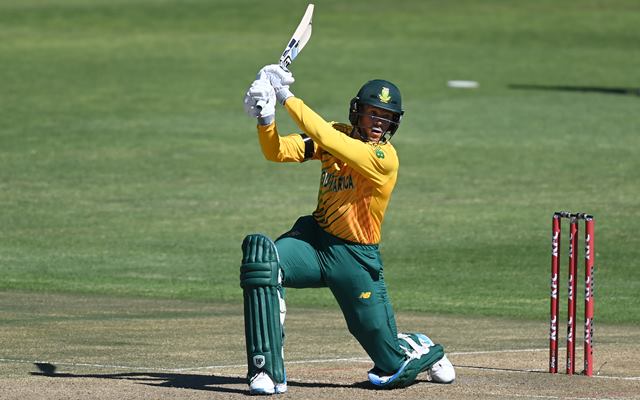 An international debut is a daunting, yet thrilling, occasion for any cricketer. To perform in a debut with excellence is a considerable feat and one that Linde achieved in the 1st T20I. The 28 year old's maiden assignment for the Proteas was to bludgeon some valuable death overs runs.
Linde was only given 6 balls to make an influence on the game but despite the limited window of opportunity, he obliged with conviction. He delivered a subtle glimpse of his calibre with 2 impressive blows; he ended on 12, smacked with a strike-rate of 200. However, this seemingly inconspicuous performance was a sign of things to come.
Quinton de Kock entrusted the debutant's left arm spin with the responsibility of delivering the 1st over. Linde, showing no signs of understandable nerves, bamboozled a flabbergasted Jason Roy with a ball that deviated a literal mile. It snared the edge of the opener's bat and found its way into the hands of De Kock. England were 0-1 and Linde's international bowling career was off to a scintillating start.
He proceeded to cast a stranglehold over Dawid Malan, the No.1 T20I batsman in the world, with some witty spin bowling. He too was dismissed in brief fashion. Finally, George Linde finished with some very tidy figures of 2-20 and showcased to the cricketing world what he is capable of.
4. Witty cutters and skiddy bouncers from Sam Curran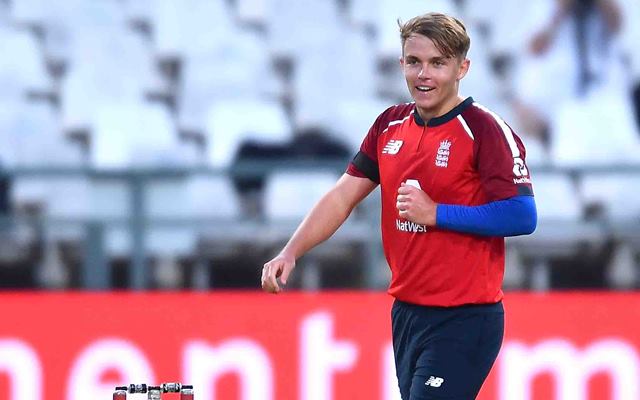 Sam Curran has previously been regarded as a red ball specialist whose bowling lacks basic potency on the frequently flat pitches of T20 cricket. However, he has put at rest to such premature statements with such a fine 3-28 in the 1st T20I.
He was handed the new ball because Morgan realised that if there was any swing, Curran would be the one to find it. Despite the lack of movement, he forced Temba Bavuma into playing a rashly executed scoop into the waiting hands of Jos Buttler. No wonder people call him the man who "makes things happen"!
However, it was in the middle overs where Sam Curran shined the most: he served up a delectable buffet of sumptuous cutters and changes of pace on a sticky wicket. This shows the admirable game awareness that Curran is blessed with in bucket loads. He used this cricketing intellect to dismiss a set Faf Du Plessis with an intelligent slower ball bumper that urged Du Plessis to hit to the long boundary.
In addition, Sam Curran bowled an unexpected bouncer which took Heinrich Klaasen by understandable surprise. Another clever wicket for a very clever bowler.
3. Rassie Van Der Dussen's spectacular striking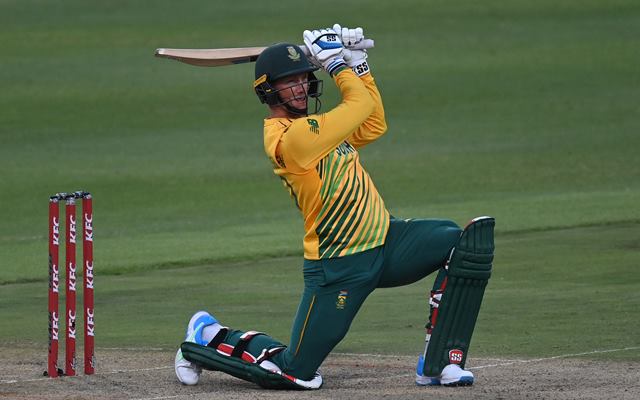 Rassie Van Der Dussen is a cricketer who possesses an enviable competitive spirit and this was revealed by his extraordinary 74 of just 32 balls in the 3rd T20I.
SA were at a crucial crossroads when Van der Dussen accompanied Faf Du Plessis at the crease and it was essential that their partnership blossomed into something of tremendous significance. RVD's innings began busily as he rotated the strike with ease but frequently pounced on the priceless opportunity of a bad ball. However, the dawn of the 16th over was the emergence of the mayhem.
Jofra Archer, one of the most feared bowlers of the T20 circuit, was the obstacle that stood between Rassie Van Der Dussen and a triumphant slog overs flurry. Despite the sheer enormity of the task at hand, he audaciously dispatched the untouchable Archer for 22 runs in just one over. He simply stood still and reacted to the ball and the ball went soaring into the stands. Easy pickings! Due to RVD's madness, Archer finished 0-44, a rare blemish on a brilliant T20 career.
He then devoured Jordan for 22 runs in the final over and hauled South Africa to an imposing total of 191 as if it was nothing. Despite the unfortunate result for South Africa, the brutal simplicity of Rassie Van Der Dussen's bomb of an innings was far too hard to ignore.
2. Dawid Malan's valiant 55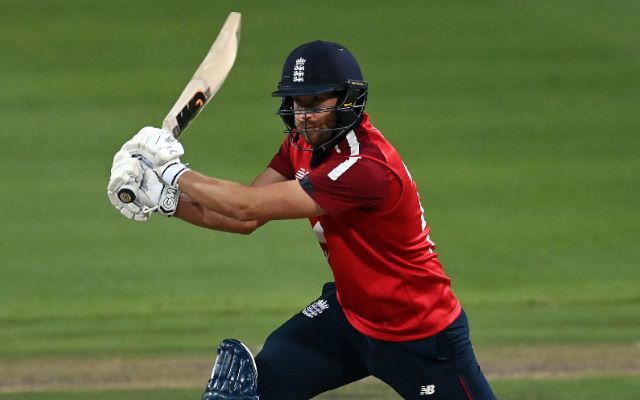 It was a pitch with a distinct lack of bounce. Because of this, the South African batsmen could only trudge to a measly 146/6 due to England's excellent containment in the second T20I. When it was England's turn to bat, they needed someone to stand up.
Dawid Malan did not appear to be in prime form; he was severely struggling to simply time the ball and his dismissal was looking inevitable to the outside viewer. He, however, refused to lose patience as Malan understood that time was not a factor in this run chase. He limped courageously to 24 off 27 at the fall of the 14th over while 3 wickets had crumbled around him.
He bided his time until, suddenly, the southpaw had chosen his optimal time to strike. Malan had been gradually building up in momentum until his waiting had reached a culmination point. The unfortunate victim of this sudden onslaught was Lungi Ngidi; Malan slapped 16 runs off 4 balls with brutal precision. The striking on display was truly sublime and the timing was even better so.
It was certainly an innings worthy of the No.1 T20I batsman in the world and the IPL teams would have taken keen notice of it definitely. The reason this unspectacular knock just pipped Malan's brilliant 99* is the importance of the fixture. If England lost, South Africa would draw the series level hence a glimmer of hope would rose from the SA camp and the outcome could have been different to the 3-0 drubbing that is now.
Malan's 55 was the sole force that prevented an England loss and the pressure that comes with achieving such a feat is worthy of recognition.
1. Jonny Bairstow's masterful 86*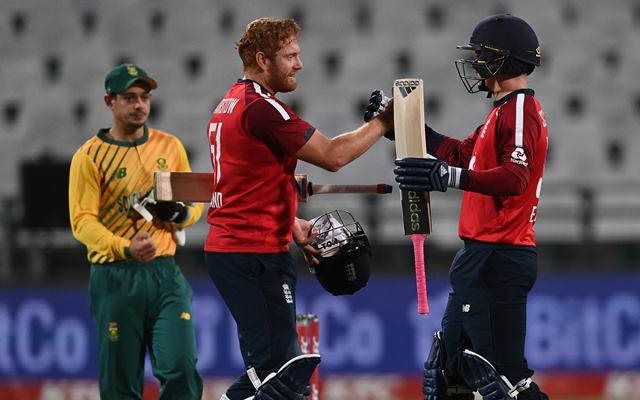 The score was 2/27 in the 1st T20I, both openers banished to the misery of the pavilion, when England's No 4 strode to the crease. It was the recently demoted Jonny Bairstow and his aura emanated of a man who was determined to make an undeniable point.
Bairstow, ably assisted by Ben Stokes, initially set about the considerable task of chasing 179 with vigilance, in recognition of the early wickets that were lost. However, this phase of necessary caution was not permanent as Bairstow was beginning to unleash his belligerence.
He utilised his ludicrously long levers to obliterate the SA bowling attack into demoralised fragments that had resigned to their inevitable fate. His innings was an invigorating fusion of inventive flicks and barbaric destruction. However, England's batting threatened to crumble due to some valiant South African efforts but Bairstow resolved to glue the pursuit back together.
7 was required of the final over and the dreaded prospect of yet another super over was looming. Bairstow would have nothing of it as he concluded the 1st T20I in emphatic style with 2 lusty blows. Throughout this innings, Jonny Bairstow looked in eternal control and dominance despite playing in a vastly different role. Nothing ever seemed to deter him in his predetermined path to victory and that is what separated this performance from the rest.
~Written by Rahul Palaninathan
Source: The source of this content is our cricket news platform Crictracker.
SportsInfo offers cricket, soccer, kabaddi, tennis, badminton, racing, basketball and other sports news, articles, videos, live coverage & live scores, player rankings & team rankings. Also, offers minute details of any match along with live commentary.